When I woke up to the sound of rain falling, it definitely felt that the seasonal shift happened overnight. I don't mind the rain, and gladly breathe in the damp air because this, to me, feels like home. I love the Autumn and look forward to pulling out my sweaters every year, so it shouldn't be surprising that I've chosen to make my career out of re-imagining sweaters for other people. Since my work is exclusively seasonal, I have always sought out events to help me better connect with customers, so to be able start my Winterluxe Recycled Cashmere show season here in Vancouver, is a real privilege. I can't wait to show everyone my new Fall 2017 collection in only a week, but until then, here's a bit about my line, in the same style as our other 28 designers, because I'm an artist first and foremost.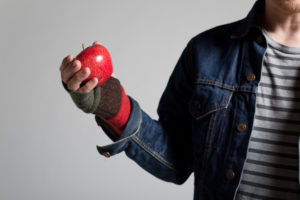 WHY THE FIRST PICK SHOW?
I've wanted to do a show like this for years, as I find a lot of the larger and higher end shows tend to take place later in the season when people are looking more for gifts than for themselves. I am excited to show with other designers who's work I admire, and really like the smaller, more intimate size of this show. 
WHY IS CANADIAN DESIGN IMPORTANT? WHAT MAKES IT DIFFERENT?
I think it is increasingly important to spend our dollars locally, and I think items designed locally fill the niche created by living in the Pacific Northwest. Our lifestyle here is different from anywhere else in the world, we can be up a mountain in the morning and in a major city in the afternoon, so we need items that take us from one to the next without missing a beat.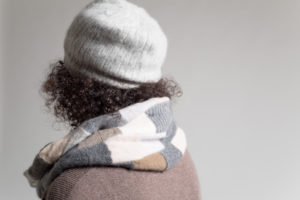 WHAT IS YOUR INTENTION IN CREATING YOUR LINE? HOW IS YOUR WORK DIFFERENT?
My intent is to create a line that fuses fashion and utility without sacrificing the fashion side. I chose recycled luxury fabrics as my materials to combat the cheap fabrics found in fast fashion. By the nature of recycling, most of what I make is one of a kind, so I am able to play around with colour and texture in a unique way. Friends can safely purchase the same item without worry they will show up as twins to an event.
I design my winter accessory line with the jumping off point being "outfit problem solving" such as fingerless gloves that allow wearers to use their cell phones, skinny leg warmers to add warmth to rubber boots, or sleeves to add on or remove as needed to suit different temperature zones within offices. I think my line allows users to wear their existing wardrobes longer, across more seasons, all while feeling luxurious. As a person who travels for 6-8 weeks a year across Canada, I have found my line to be highly functional as weather patterns have become more erratic, so a few select pieces have enabled me to pack a lot lighter. I think this is different as most items are designed without the consideration of what they would be worn with as the current model is to just buy more, vs my take on working with existing articles in a person's wardrobe.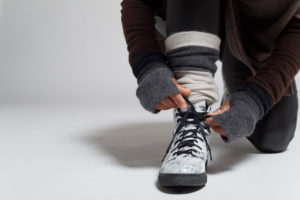 WHAT IS THE BEST PART ABOUT BEING AN INDEPENDENT DESIGNER? THE WORST?
I think the hardest part is marketing: I have sold work as an artist since 1998 and have witnessed all sorts of changes in shopping habits, yet people still regard "handmade" as being "crafty" or somehow unskilled, which is not the case. It is ironic that with the rise of fast fashion, many people will accept a sweatshop made garment that falls apart in the wash as the standard for what is acceptable, while artisan goods crafted with much more care will last years. This sort of thinking is directly responsible for our environmental damage and throwaway culture. People need to really start to look past their consumer programming to think about what they really value: cheap trendy styles in synthetic fabrics or handmade work designed with intent.
I guess the best part is our ability to change the way we go about in the world, as we can stay true to our own values and not be forced into producing sub-standard work for the sake of profitability. We can band together to create social change faster than larger companies, through pop up events and markets with common goals, to prove that Slow Fashion is, in fact the only way forward.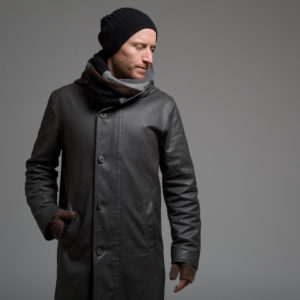 HOW HAS LIVING IN VANCOUVER INFLUENCED YOUR LINE?
As Vancouver became a wealthier city, I started noticing an increase in the amount of discarded cashmere sweaters available, many of which were damaged. I decided to transition from making my previous line which used new materials to my current line which uses only recycled luxury fabrics, which is more in line with the type of company I want to run moving forward. I have always been influenced by our West Coast climate and lifestyle and previously worked with waterproof materials, but now I want to get a bit cosier, softer, so the cashmere I'm using hits all the bases.
WHAT IS YOUR GREATEST CONCERN AS A MAKER/DESIGNER? 
At the moment, I would say my biggest concern is the out of reach real estate prices in Vancouver, as this leads to the loss of artist studio spaces and affordable brick and mortar retail. Artists and designers are being forced out of the city due to high rent or even not being able to find suitable work spaces. I lost my studio of 11 years to renovation last fall, but fortunately we had some notice so I was able to make other arrangements. Even with advance warning other artists within my building weren't so lucky, and had to put their careers on hold because the type of space they required simply isn't available. 
Since so much more money generated by small business stays within the community, I believe it is a great disservice to all citizens when we lose this community, as then the only choice becomes the larger, more profit driven businesses, who care more about the balance sheet than environmental or human rights. I think our best bet to help the environment and communities us to get back to a slower fashion cycle (vs micro-season fast fashion) with an emphasis on handmade, as it shows the true nature of the city. Travelling to other places is no longer as interesting when every place has the same stores selling the same product. Events like First Pick make it easy to find locally made, unique items.