We're profiling designer Lexi Soukoreff, creative director and surface designer behind Vancouver active wear labels Daub + Design and Daub Active. From leggings to bras, socks and seamless panties, we love that her signature prints not only make us look good, but her body positive message makes us feel good about where we are *right now* so we can push forward to be strong and healthy women. Here's her take on being an independent designer: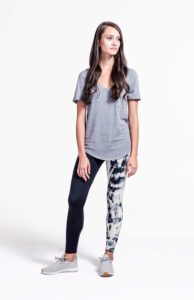 WHAT IS THE BEST PART ABOUT BEING AN INDEPENDENT DESIGNER? THE WORST?
Being an independent designer is one of both the hardest and most rewarding jobs you'll ever have. Every day is different and challenges you in ways you don't wake up expecting. You have to be self-motivated and able to multi-task every single minute of your day. Everything is up to you. If you don't do the work, nothing gets done. If you do the work, you're rewarded but often down the road. Often, the reward or recognition is quickly forgotten as you move onto the next challenge. From the outside, it looks glamorous and exciting but it is really step by step, day after day, hard work and dedication. It's important to stop and look at where you were a year ago to get perspective. And to give yourself personal and social time. It's easy to overlook your own needs and sacrifice for the business. It's a grind. It's a hustle. It's the best job.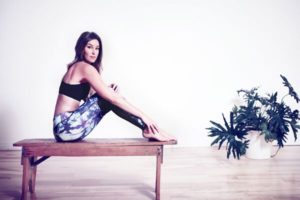 WHAT IS YOUR INTENTION IN CREATING YOUR LINE? HOW IS YOUR WORK DIFFERENT?
My intention with Daub + Design and DAUB ACTIVE has always been to create a recognizable aesthetic in our unique pattern design. We offer exclusive prints or dyed garments on basics garments to make them stand out and fit real women well.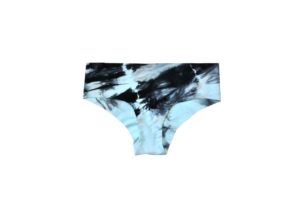 TELL US ABOUT YOUR PRODUCTION PROCESS.
Our focus is on small batch production and a seasonless collection. This means that we produce what we need as it sells, offering fresh pieces as necessary. We often carry over our best sellers because people still love them. We work with local factories to minimize our footprint but also to support our own economy and those working here in Vancouver. It's important to us to have strong relationships with our factories and we visit a couple times a week during a production or sample run. We use quality fabrics and manufacturers so your garment lasts. Buy less but better quality. Be conscious of where your clothing is produce, who makes it and what it's made from.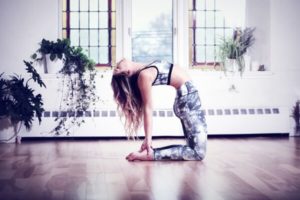 WHAT IS YOUR GREATEST CONCERN AS A MAKER/DESIGNER?
I'm concerned with offering quality, unique products that make women feel great about their bodies day in and day out. The world of fast fashion makes it confusing for the customer fabric quality, proper fit and classic styles are sacrificed for ever shifting trends. Our garments last and we offer new colour ways to create our line as collector pieces. Many of our clients come to see us year after year, not because they need to replace their goods, but because the fit is great and they want to add another piece to their collection. It's more than just a consumer product.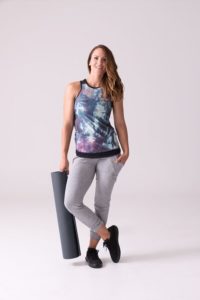 HOW HAS LIVING IN VANCOUVER INFLUENCED YOUR LINE?
Vancouver is a stunning city, close to both the ocean and the mountains. We have mild weather making it easy to access the outdoors all year round. The city has spawned many activewear brands over the years and has had the manufacturing infrastructure to support local production. The designs have a specific West Coast feel with an air of sophistication. It's hand-dyed to allow for an organic flow of pattern on each piece.