We're kicking off Men's Week with all Vegan Boot Company Anderson's Boots, made right here in Vancouver. We are exited to see designer/maker Kevin Milne's cruelty free line of traditionally crafted boots when he makes his market debut at First Pick Handmade. Rumour has it there will also be some selvedge denim at the show, so you won't want to miss this! Check it out: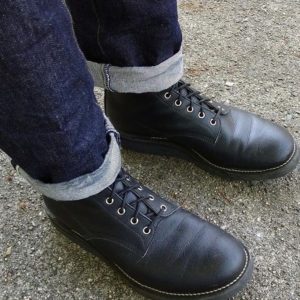 TELL US MORE ABOUT HOW YOU STARTED…
Through years of tree planting and an interest in motorcycling, I developed an appreciation for rugged, durable gear. When I was unable to find a non-leather boot that was to my liking, I decided I would take it upon myself to create one. Luckily I was able to acquire some skills on the job, while working in the factory of a Canadian manufacturer. I taught myself the rest, picked up some equipment, and I am currently looking to move out of the research and development phase and start getting some boots out into the world. Ultimately I hope to expand beyond footwear and fill any gaps in the market where there are no viable non-leather alternatives for demanding citizens with traditional tastes. This will likely mean gloves and jackets and other products traditionally made with leather for reasons of durability, safety, and style.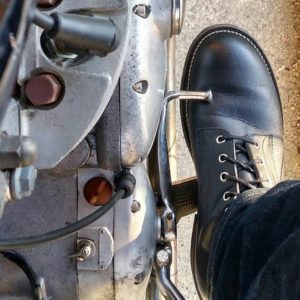 WHAT IS YOUR INTENTION IN CREATING YOUR LINE? HOW IS YOUR WORK DIFFERENT?
My intention is to provide a viable alternative to those who do not wish to consume leather goods, starting with boots. Yes, there are plenty of vegan footwear brands, but most are produced in larger facilities, and either according to lighter-duty Italian traditions, or more modern English traditions (a la Doc Martens). I am producing rugged footwear that is handcrafted according to more traditional English/North American methods; footwear that is appropriate for the outdoors, work, motorcycling, etc., while not being out of place in an urban setting; footwear that is designed to be reworked rather than discarded. My greater intention is to offer a full line of traditionally styled vegan goods to replace those that have traditionally been made of leather.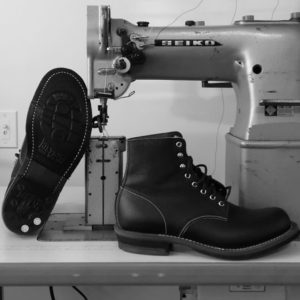 WHY IS CANADIAN DESIGN IMPORTANT? WHAT MAKES IT DIFFERENT?
It is important to design things in Canada in order to further establish a national identity, rather than play second fiddle to Americans and others. As Canada is often associated with the outdoors and the wilderness, Canadian design can reflect that and be rugged and durable.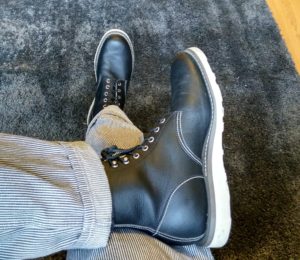 WHAT IS YOUR GREATEST CONCERN AS A MAKER/DESIGNER? (IE LACK OF STUDIO SPACE, RETAIL MARKETPLACE, FAST FASHION, ETC)
My greatest concern during the development phase was finding acceptable non-leather alternatives for every component of the boot, and adapting my production methods accordingly. At this point I am concerned about competing with the lower price point of disposable fashion – even of other vegan brands, which aren't necessarily disposable, but tend to be produced on a larger scale. Eventually I would like to strike a better balance between large and small scale production, perhaps via the organization of collaborations with slightly larger Canadian manufacturers – for example, having a company that already produces jackets make a run to my specs.  Overall, the lack of affordable workspace (or any space at all) in Vancouver is perhaps my greatest concern; it has been and continues to be the greatest setback in development….
HOW HAS LIVING IN VANCOUVER INFLUENCED YOUR LINE?
Vancouver has a strong history in shoemaking, with several local brands, which definitely pushes newcomers to meet high standards.