It's Monday again, which means the start to a whole new week of artist profiles as we get ever closer to our show in September. This week is all about Statement Fashion: pieces that are bold, brave and unapologetic, much like the designers that have created them. Today we're meeting Krysta Furioso, the beadweaver behind OnlyChild Handicrafts, whose intricate handiwork inspires us to rethink previous notions of beaded fringe and get ready to embrace its new and modern tradition. Check out more at Creators Vancouver, where Krysta gives us some insight to her craft, and plan to visit her at First Pick!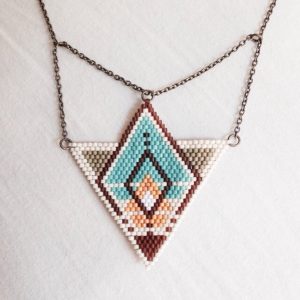 WHY IS CANADIAN DESIGN IMPORTANT? WHAT MAKES IT DIFFERENT? Canada is lucky to have a past that is as rich and diverse as our population. As designers and craftspeople, taking our place on the world stage means bringing light to the many trades and traditions that were born in the farmhouses, wigwams, cabins and fishing shacks of our ancestors. As residents of such a vast and bountiful land, we've always found inspiration in what surrounds us, and have used whatever we could to create beautiful things for family, friends, trade, and ceremony. Over the decades and centuries, we have also been fortunate enough to have been introduced to the incredible crafts of countless other cultures via our large and beautiful immigrant populations, early settlers, and global adventurers. Canadian craft represents who we are, where we came from, and what we've been given.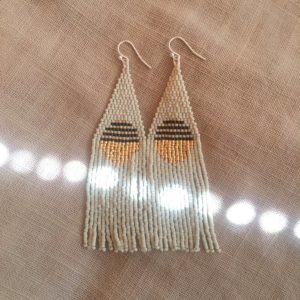 HOW HAS LIVING IN VANCOUVER INFLUENCED YOUR LINE?
Living in Vancouver and the West Coast at large has opened my eyes to a giant array of design elements from around the world, as well as drawn my heart into our past as home to the First People's of the coastal nations. I am endlessly inspired by the clothes people wear, the colours they combine, and the timeless beauty of Indigenous artwork.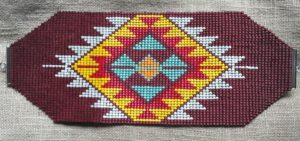 WHAT IS YOUR INTENTION IN CREATING YOUR LINE? HOW IS YOUR WORK DIFFERENT?                      
My intention with ONLY CHILD Handicrafts is to bring the amazing craft of beadweaving to a wider consciousness in contemporary culture. I like to think my beadwork steps outside the box with my use of contemporary colour and design motifs. I do my best to find a balance between tradition and innovation with every piece.