Statement fashion isn't limited to clothing alone, so we are shining a very sparkly, happy light on Vancouver based Jewelry label Toodlebunny. We love designer Trudy Wynans' assemblage style: combining vintage bits and bobs, crystals, deadstock chain and whatever else she uncovers to create one of a kind statement pieces. Toodlebunny pieces seem to be the perfect thing to add a quick style injection when all you feel like wearing is jeans and a black t-shirt… We can't wait to see what new bling she'll bring to First Pick in a few short weeks!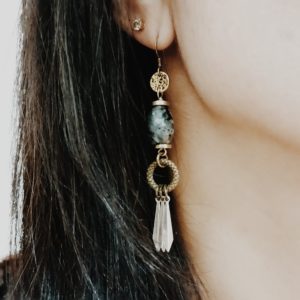 WHAT INSPIRES YOUR WORK?
Inspiration for my work comes from my surroundings and the materials themselves. I love to incorporate asymmetry, yet somehow keep the pieces balanced with complimentary lines. Working with reclaimed and found materials always challenges me to think out of the box when designing a new piece. Taking vintage or discarded finds and creating a one of a kind design is always one of my favourite challenges.  My clients can also spur inspiration by simply choosing to wear the piece other than had originally been intended.   Requests or suggestions for colors or sizing can also bring on a new wave of design ideas.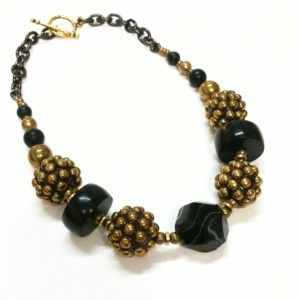 IS YOUR LINE GREEN OR ECO FRIENDLY?
My ECOuture Collection conveys an image of old-world craftsmanship meeting modern day sustainable design.   Pieces from this collection are created primarily with a fusion of vintage dead-stock elements, re-purposed materials and rare finds creating an environmentally conscious, yet fashionable jewelry line.  For this collection I try to focus on statement pieces that are one of a kind, or depending on material availability, limited to one of a few.  I do my part in the studio and home life to promote more sustainable living practices and eliminate unnecessary waste.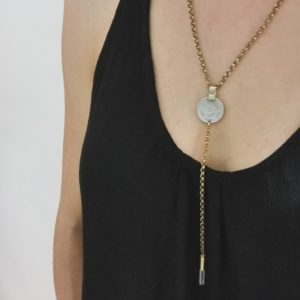 WHAT IS THE BEST PART ABOUT BEING AN INDEPENDENT DESIGNER? THE WORST?
The best part is being able to create every single day. Another perk is the flexibility to choose when you will work, wake, sleep or where you could travel to. If its a beautiful sunny day and you just want to enjoy it, get outside! The worst is when you blink and the realization sets in that its already OCTOBER! Here you can only blame yourself when you've taken off too many days (damn sun and adventures) and you're freaking out that you won't have enough stock for the holiday season. Somehow we always pull through though!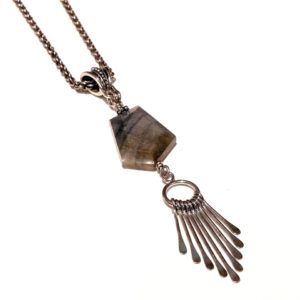 WHY ARE YOU EXCITED ABOUT THE FIRST PICK SHOW?
Im looking forward to getting my whole fall wardrobe at the show! Supporting the handmade revolution all under one roof among many designers and makers that I truly love. Doesn't get any better than that!