It's almost showtime… we can hardly believe it! We're feeling all the feels that come with finally bringing something that we've thought so long and hard about and we're very excited to throw the doors open at Heritage Hall and invite everyone into our world for a weekend… But then, what happens after? How do we mark the occasion? What happens to all the feelings afterwards?
When you're self employed, you make your own rules, but at the end of the day, there's no one to give you a congratulatory party, Employee of the Month award or a watch for years of service, so we must do these thing for ourselves. We deserve it, and there's no better way to commend ourselves for going the extra mile than with a piece of special jewelry… which is why we love LanaBetty so much.
Handmade in Vancouver by designer Lana Lepper, her jewelry line adds the unique touch through custom work and finishes, all with heaps of style and sometimes a wee bit of attitude. Who'd argue with the BossLady after all? The best part: it's custom, so you can have it how you like it, thank-you-very-much! Gold, Rose Gold or Silver, not a problem. Should the need arise for something right now, thankfully there's a number of special-somethings ready to go because Lana intuitively knows we all have moments to mark… Come see what's available from this forward thinking, future ready entrepreneur at our show!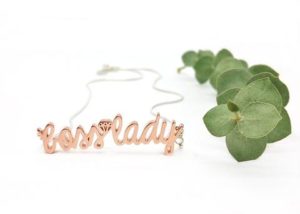 WHAT IS YOUR INTENTION IN CREATING YOUR LINE? HOW IS YOUR WORK DIFFERENT?
Our intention with our lines is to challenge people's perspectives. To make the unmakeable. Across Canada there are very few designers who use 3d printing as a medium. You can search the world high and low and will not be able to find designs like ours. That is part of what makes us so unique. We 3d model and design our pieces so that each piece is one of a kind – there is nothing in the world like it.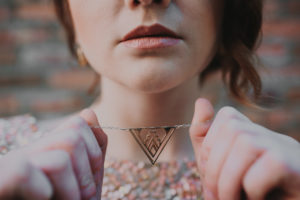 HOW HAS LIVING IN VANCOUVER INFLUENCED YOUR LINE?
LanaBetty is heavily influenced by the new, modern, and old architecture of Vancouver. Seeing how seamlessly these styles ebb and flow together is a true masterpiece and we draw from that connection. Our designs are architecturally based and have deep roots in contemporary design.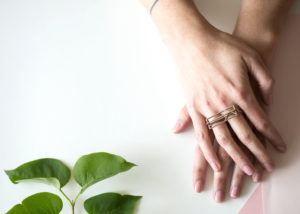 WHY IS CANADIAN DESIGN IMPORTANT? WHAT MAKES IT DIFFERENT?
To me, it is important to be a part of the Canadian design community in the way that we are a unique breed of explorers. To break out of the 9 to 5 mold our parents, teachers, and peers formed us in, reiterating that to be able to 'make it' in the world, we would have to put aside our dreams and focus on what matters. To be able to live in a country where we can explore our art, our passion, and to be able to support our families and the families of our employees really speaks to the open mindedness and government cultivation of the arts that we have the luxury to enjoy in Canada. Canadian art is influenced by so many factors, almost certainly from our abundant and rich outdoors.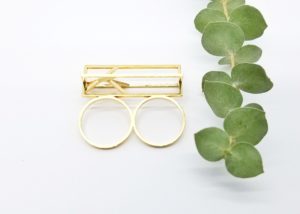 WHAT IS THE BEST PART ABOUT BEING AN INDEPENDENT DESIGNER? THE WORST?
To me, one of the best parts of being an independent designer is being able to pursue my passions and work in an encouraging and supportive environment. I wake up every day, excited for 'work'. I skip to the studio with a pep in my step knowing that the next 10 to 12 hours (because, let's face it, we're all workaholics) will be spent creating beautiful things with my bare hands.
The worst? Growing roots in Vancouver. Rent is high and expectations from employees are too. It is hard to carve out a niche in this amazing city and be recognized for your investments in the arts and culture of the city. The artist spaces currently available for rent in this city are either outrageously priced or dilapidated to the point where we face working in basements infested with mould or buildings with no elevators, rickety staircases, or worse, full of fire hazards and code violations.
WHAT IS YOUR GREATEST CONCERN AS A DESIGNER RIGHT NOW?
At current, our biggest challenge with our line and expanding LanaBetty is helping people understand our process. Explaining the technology is complicated and it makes it difficult when jurying for a show or exhibition. A lot of jewelry purists believe 3d printing besmirches the good name of jewelry making and to us it couldn't be farther from the truth. What we are doing with 3d printing is pushing the envelope on design. It's combining traditional techniques with modern technology allowing us to make the unmakeable. The only impetus to our creativity is our own ideas in our heads. We can almost make anything we can dream! It's inspiring, really.
TELL US MORE ABOUT YOUR 3D PROCESS…
What's great about 3d printing is that there is almost zero waste! We employ a technique known as SLS 3D printing whereby layers of metallic powder are fused (using laser beams) together to form our designs. The metallic powder that is not fused can be collected and re-used for future prints.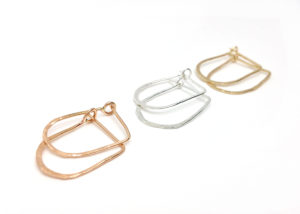 WHY ARE YOU EXCITED ABOUT THE FIRST PICK SHOW?
September is a busy time for designers as we head into the FW season. There are so few opportunities for Vancouver Designers to showcase their work. If you are lucky enough to receive a coveted spot at Fashion Week, it's hard to make any waves above and beyond the runway shows. As a jewelry designer, participating in a highly concentrated show like First Pick allows me to curate my guest list and show shops and buyers what I have in store for the holiday season.