Hello Monday! It's the final countdown to our Fall 2019 Market, so all week we'll be featuring designers to help us Get Cozy this Fall! We're starting it off with Maria Roth, whose jewelry we've been eyeing over the years at other markets, and we're so glad to have her join us for this one. We can't wait to see her pieces, which thoughtfully combine wool and beads, allowing the materials textures to contrast one another.
We interviewed Maria about her work and process, check it out and visit her at the show this weekend!
Even with the rise in Sustainability, customers still want "luxury"… how does your line connect the two concepts? 
I have tried to make sustainability and cradle to cradle have been part of my textile practice since its onset. I work with biodegradable materials that are carefully sourced and high quality, which with wool means wonderful to the touch and durable. For my necklaces, the beads I use are handmade contemporary (mainly but not all from recycled metals) and unused vintage and antique, some of which are both beautiful and rare. I hope everyone gets many years of use and enjoyment form the things I make. If anyone ever needs a necklace re-strung or wants a new cord, I am very happy to do so.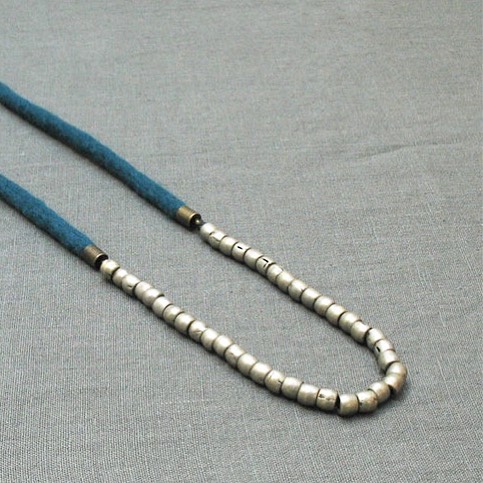 What is your favourite part of production, and why? And the least favourite? 
I really love two stages at either end of production – the beginning (colours, design, imagination, sourcing that season's new materials) and the very end (everything is trimmed, connected, felted, completed – I find it deeply satisfying to see everything done and together as a big group before it going out the door for a store or show).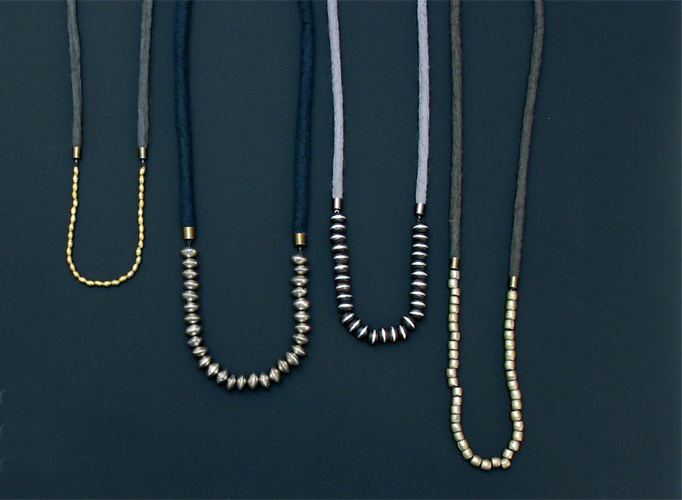 What do you wish customers understood about the production process?
How long it takes to design and test new products that are also functional, in addition to their regular production time. Almost all of my work involves some new production techniques or materials that take time to figure out and then do good usability and wear testing on. The new line of felted merino wool scarves I am working on took approximately two years to figure out and test through wearing and feedback from others before I felt they were ready to go to market.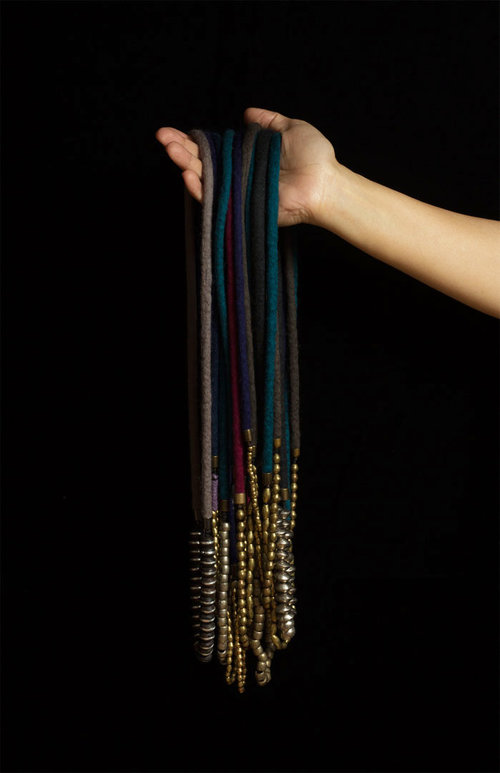 What's new for Fall 2019? Why are you excited about this season?
I'm excited about two things I will be bringing to First Pick Handmade. Some incredible and beautiful antique beads that I pair with merino cords – some of beads are rare and I was only able to get one or two strands in from the dealers that I work with. The other is a new and small series of felted merino wool scarves – I have tried to create a distinct and graphic body of work (stripes, BC flower silhouettes) that is also soft to the touch and partly gender neutral.
Let's talk design for a moment: what is your design viewpoint? Who is the person you design for? How has your design viewpoint changed or evolved?
I try to create objects that can be used everyday that are unusual, beautiful and have minimal environmental impact. My aesthetic, which is rooted in museum anthropology and graphic design, has basically been the same for over 20 years of making – clean lines and colour-centric.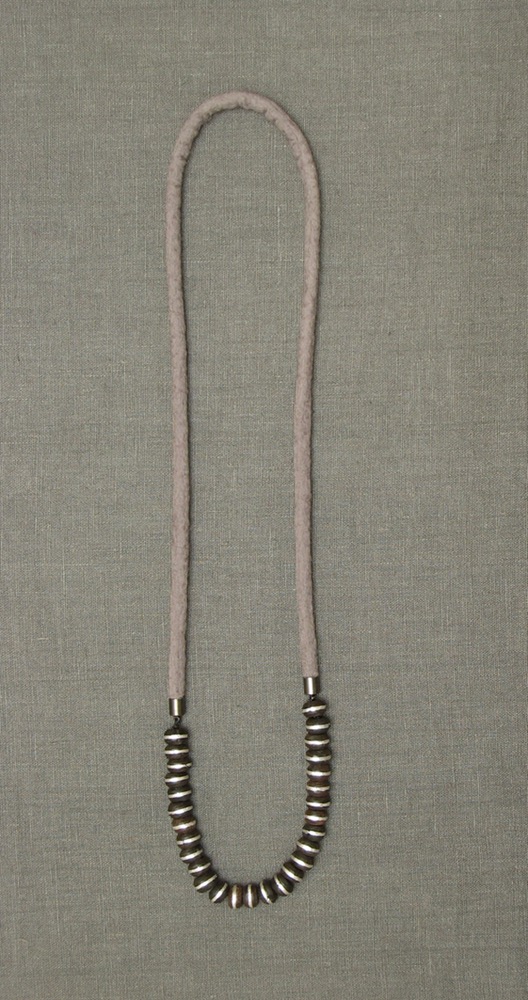 What challenges do you find yourself facing, and how does being part of the local design scene help?
The biggest challenge has been overcoming isolation, as I work from home. Being part of a local creative community – and having so many friends whose work has been inspiring and motivating – has been critical for me. 
And I really love all the wonderful shows we have in Vancouver, both big and small – so important to be able to see (and show) work in person. Without them, I don't know that I would be selling my work right now – my work is a bit unusual, and the really positive feedback I've gotten has been important, as well as seeing all the incredible work by others.