We're shining a spotlight on all things woollen with our profile of Diane Zwickel, the designer and busy hands behind the hand-knit accessory line Zed Handmade. We love the colours and attention to detail Diane puts in her work, everything is considered and of the highest quality of craftsmanship. It's warm outside, but winter is coming, and with Zed Handmade, we kinda can't wait. See for yourself: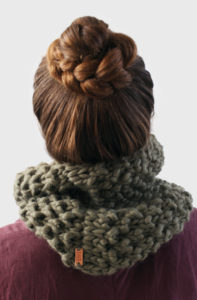 WHAT IS YOUR INTENTION IN CREATING YOUR LINE? HOW IS YOUR WORK DIFFERENT?
I believe that the consumer's need to connect to high quality hand-made goods with a local story is changing how business is done. My vision is to create and produce a line of hand-knit natural fibre accessories, bringing them to the marketplace in a setting that allows me to meet the very people who will wear these pieces.
I don't design for knitters; I design for people who can't or don't have time to knit, but want to wear original hand-knit pieces. Knitters look for complicated stitches and patterns, while I design more simple pieces that are well crafted and finished. I focus on fashion trends rather than knitting trends. The zed brand has become a personal statement of my design belief ─ simple is powerful.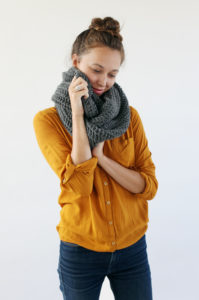 HOW HAS LIVING IN VANCOUVER INFLUENCED YOUR LINE?
Vancouver style is more casual than in Eastern cities, so my designs aim to look good with a  wool coat or parka, yoga wear or mountain wear, jeans or dress pants. No sparkly yarn or lacy shawls for zed!
My original designs take cues from nature ─ how the shape of a fern frond or a snail's shell is simple yet profoundly beautiful. The finished products are distinctive and wearable with trending colours rotating through a primarily neutral palette, heavily influenced by my love of the West Coast ─ green foliage, brown cedar, grey fog, steel ocean, and beach-sand beige.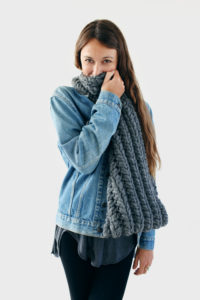 WHY IS CANADIAN DESIGN IMPORTANT? WHAT MAKES IT DIFFERENT?
Canadian design has never been more important than it is today, as we see our retail landscape slowly swallowed up by big American retailers.  When this happens, we are at the mercy of a fluctuating exchange rate, "fast fashion" with an emphasis on cheap and throw-away pieces, and the inability to choose whether our clothing is made by workers who are paid a fair and living wage.  While it is tough to keep design and production local, it is too important to ignore.  We don't want to lose our national identity, however it is defined.
Canadians are pretty proud of their country, so it follows that they are excited when they find local design talent.  We all know what struggles exist in a smaller marketplace than the US provides, so Canadian designers have to fight hard to be discovered and recognized. With that comes independence, though, and the freedom to be true to their values and beliefs.  Sometimes small is good!
WHAT IS THE BEST PART ABOUT BEING AN INDEPENDENT DESIGNER? THE WORST?
Anyone who works independently knows the time it takes to research trends, colours, fabrics, website issues and the marketplace, not to mention Instagram & Facebook posting, emails, blogs and accounting.  This cuts into production time, and makes it difficult to find a good balance between work and personal time. Many of us are a team of 1 and we end up having to be good at so many of these aspects of our craft/business. Working solo in our studio can be lonely, and sometimes doubt creeps into what we do.  We end up relying on friends and family to give us feedback on how we are doing.
At the same time, all the above-mentioned means we are truly independent, answering to ourselves instead of a boss.  We have to take credit for our successes and failures, fostering personal and business growth.  Working as an independent anything is not for the faint of heart, but I wouldn't have it any other way!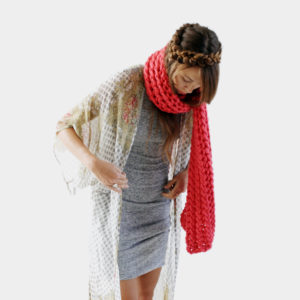 WHY ARE YOU EXCITED ABOUT THE FIRST PICK SHOW?
First Pick YVR will be my first fashion-focused show, and I can't wait to see shoppers "pick" pieces from various designers to come up with an locally-curated fall wardrobe. The assortment is sure to be unique, well made and decidedly west-coast.  For me it will be like shopping in a neighbourhood boutique that cares about every aspect of what they sell and what I buy.  Just doesn't get any better!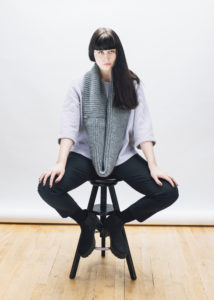 WHAT IS YOUR GREATEST CONCERN AS A MAKER/DESIGNER? (IE LACK OF STUDIO SPACE, RETAIL MARKETPLACE, FAST FASHION, ETC)
If I had to name one concern as a local designer, it would be the trend to cheap, fast fashion.  Replacing every year, looking at purchases as a moment in time rather than an investment and a commitment to a lifelong personal style.  Our planet can't support the reliance on factory production, with its inherent pollution, waste and an often unethical workplace.  Our society can't support the idea that nothing is permanent, that people don't matter, that the planet doesn't matter.  We need to find a  balance between fast and slow, so that they both have a place in our lives.  Reuse, reduce, recycle; all have a place in local, slow fashion.  As my grandmother taught me so many years ago, I come back to it today.