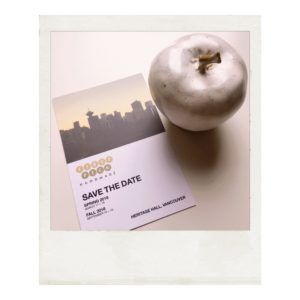 We've had a few busy weeks getting things ready for our *first* First Pick Handmade Spring event, taking place March 17+18 2018 at Heritage Hall.
We've been waiting to start sharing our vendor list as we have been confirming more and more fabulous makers, but we are too excited about this amazing group we have lined up to stay quiet any longer, so here we go:
Jewelry: Zula Jewelry, Soma Mo, Black Solv, Kolton Babych Fine Jewelry, Joanna Lovett Sterling, Billy Would Designs, Bianca Barr Designs
Bags, Wallets and Belts: My Bukuro, Bronsino, KRSD Leather, Street and Saddle
Men's Clothing: DRZDWSK, Novel Supply
Women's Clothing: Silver and Gold Clothing, Jessica Redditt Designs, Bianca Barr Designs, Dahlia Drive, Le Fil Rouge, Street and Saddle, Novel Supply
Active and Swim Wear: Daub and Design/Daub Active, Bikini Empire
Socks and Lingerie: Revol Girl, XS-Unified, Daub and Design
Hats and Scarves: Frances Felt, XS-Unified, Winterluxe Recycled Cashmere
Beauty and Skin Care: Xzola Beauty, Conscious Care
It's been tough choosing from all the amazing makers out there, and our goal as always is to curate the show to fit the season, so for this event we have given priority consideration to lines that are perfect for the upcoming summer Wedding Season (including travel-ready capsule wardrobes for destination weddings) and the necessities for our active West Coast lifestyles. We know you'll love coming to shop #headtotoehandmade and we can't wait to introduce you to some of the amazing, local brands we've got lined up…
We have a couple spots left reserved for: Men's and Women's Clothing, Body Care, Fragrances, Footwear and Bags, all other categories are filled. If you are a maker in one of these categories and wish to apply, please email us as soon as possible before we fill these last few spots.
We look forward to seeing you at the show so mark your calendar: March 17+18 2018 because #handmadelooksgoodonyou!