We're profiling Active Living all this week and with the weather lately, we've really been thinking of all things beachy, sandy and (most importantly) sunny! We've been daydreaming of how we'll spend our summer, and a new bathing suit definitely fits into those plans nicely. We're excited to have Bikini Empire make their First Pick Handmade debut with us at our Spring show, and we chatted with sisters Kelsey and Monica about their brand, materials and more… We love companies that make it easy to be active *and* eco-conscious, so be sure to check Bikini Empire out at the show!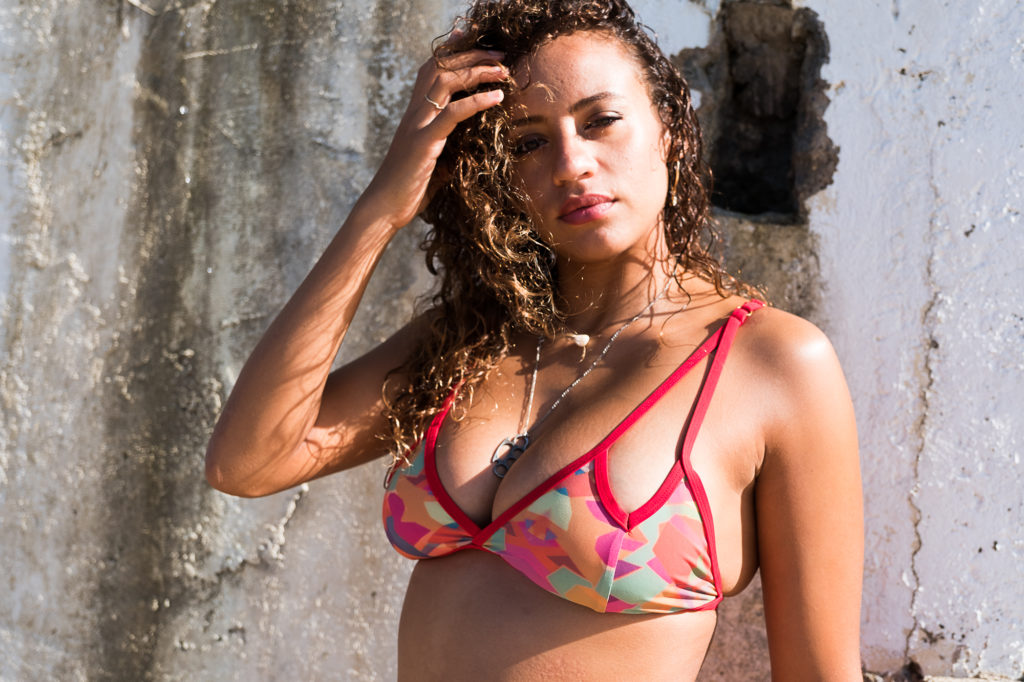 Tell us about your company…
Bikini Empire is the collaboration between twin sisters Monica and Kelsey Rush. We were raised on the west coast of Canada on Vancouver Island as total water babies, spending our childhood in beaches, pools, and training as competitive swimmers. We soon fell in love with surfing and were deeply impacted by surf and travel culture around the world. As teenagers and young adults, we travelled the world together, which influenced their outlook on fashion, culture, and humanity.
Kelsey lives on the west coast of Canada on a small bohemian island, in an off-the-grid house she built with her partner, and Monica lives in the Dominican Republic, and surfs everyday.
How did you start? What's it like running a bikini company?
Bikini Empire began as Kelsey's creative whim. She was inspired by the need to create the best bikini she could – one that is not only cute and functional, but also ethically made, and blow-your-mind amazing and original. This whim has blossomed into a business and full-time jobs for both of us. We work on every aspect of the business together and Bikini Empire is a true collaboration of our creative talents.
Our lifestyles have adapted to accommodate tropical photoshoots, design and styling sessions and endless email and Skype conversations. Our goal is to make no compromises, and do something that no other swimwear companies are doing.
Together we have created a swimwear line that is sexy, functional, high fashion and sweat shop free. It is ethically produced in Vancouver, Canada from fine Italian eco-fabric.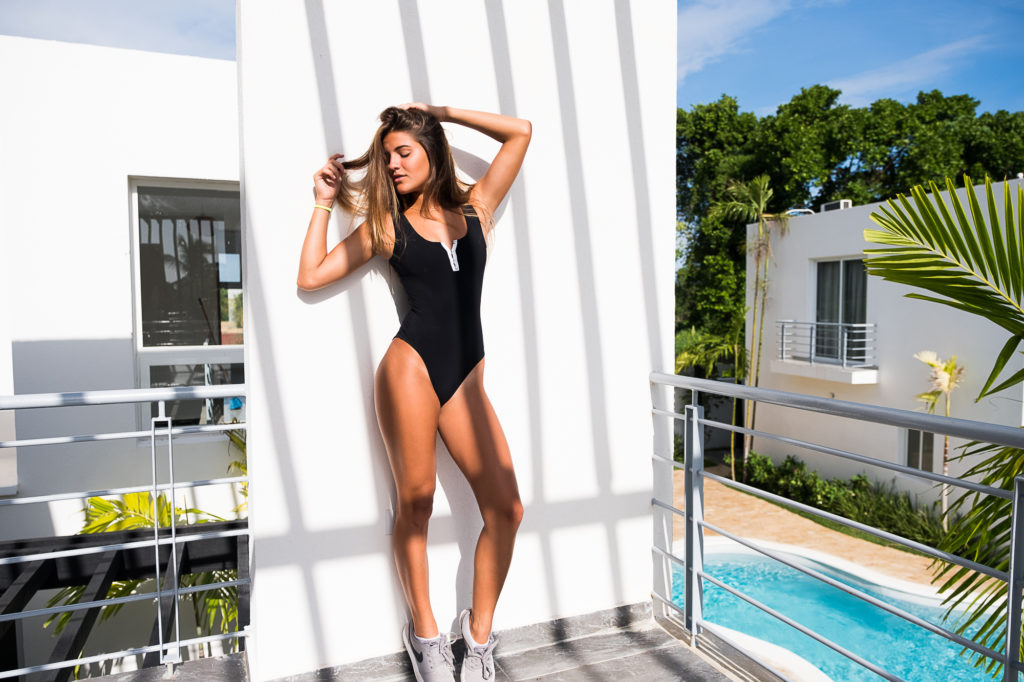 What's your favourite thing about Spring fashion?
Our favourite part about spring fashion is that we can wear cute colours and we don't have to be layered up with gloves and boots and jackets. Spring fashion is also so feminine and there is always the possibility for a bikini to make an appearance!
What's your Spring must have?
Our must have item for spring is a one piece bathing suit that you can wear with high waisted jeans and a duster or kimono. then if it gets hot you can go for a swim at third beach!
We know you care about the environment. Can you tell us more?
Our line is eco due to the fact that we manufacture locally in East Van, thus lowering the cost of transportation and the use of fossil fuels. We also source ethically made buttery soft fabric from a solar powered plant in Italy. Our fabric provider also supports the WWF by helping to preserve areas around the world for wildlife habitat. We source elastic, zippers and other notions from Canada, Los Angeles and Italy- we aim to only purchase materials from places that pay living wages where working conditions are good.
Who is your customer? 
Our goal is to create beautiful, wearable swimwear that is comfortable and flattering. Our customers are women between the ages of 20 and 65. We have a ton of repeat customers because our suits are simple enough to wear anywhere, but still fashion forward and chic.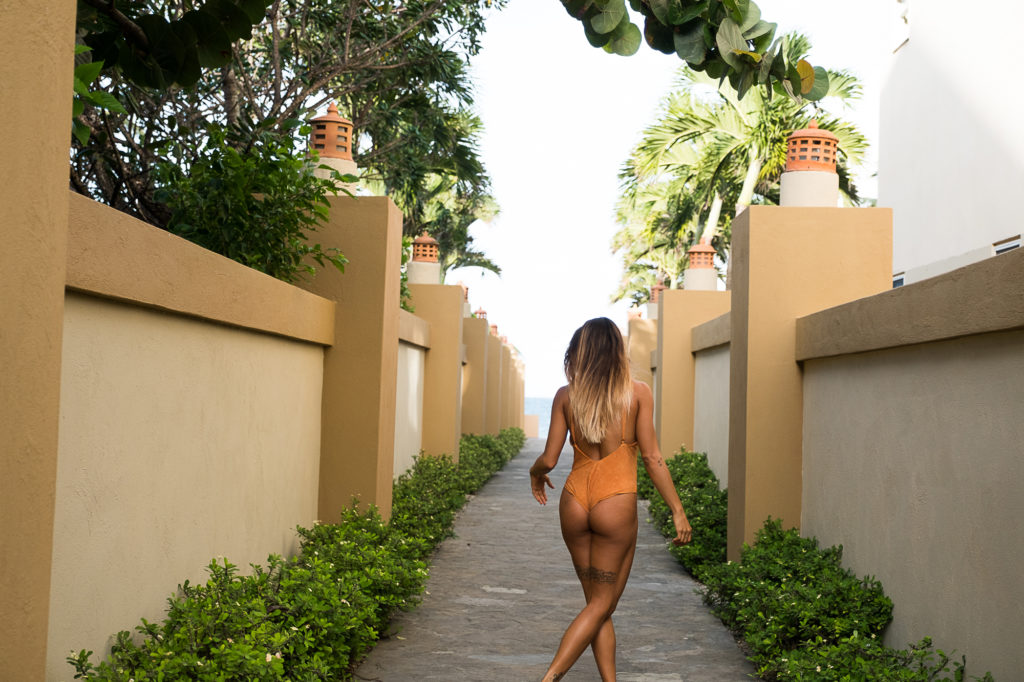 What's it like manufacturing in Vancouver?
We love manufacturing in Vancouver, it beats going to china to check on manufacturing. As islanders we love an excuse to go to the city for business. Moreover the fashion scene is really evolving in Vancouver and we've seen that growth over the last 5 years. luckily we're not known only for black rain gear and Lulu Lemon anymore!
Some challenges with producing in Vancouver: Lack of competition, lack of deadlines, no subsidiary industries, high costs, the struggle is real.
Why are you excited to be part of First Pick Handmade?
We're excited to welcome in spring with a cool selection of other ethical brands.