Happy Monday Everybody! It's a brand new week, with a brand new theme… and all this week we'll be taking a closer look at Wedding Belles: everything from Rings to Lingerie to Custom Bridal wear and ideas for bachelorette parties, with some less traditional twists thrown in… so you'll definitely want to check back every day to see what new handmade ideas we have for one and all in your Bridal Party…
Without further ado, and many "I do's", the ring is our subject today, and it's a perfect time to buy handmade and bespoke. Why wear something off the rack when there are master craftsmen such as Roberto Fioravanti at the ready to make delightful and special rings to capture what your love means…
A regular at First Pick Handmade, we love to see what Roberto has been making, as it is always spectacular. Much of his work is made to order, so here are some ideas to get you thinking, and we are sure he will have something you'll gladly say Yes to, as his pieces combine Italian gold-smithing techniques and delicious stones. Be sure to visit Roberto at our Spring market and yes, you can purchase his pieces as Anniversary or personal celebration pieces too!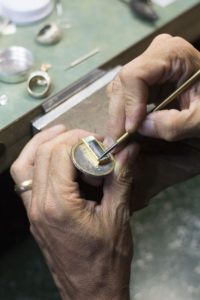 On his work, Roberto says:
Every time I make a piece of jewellery, I ask myself "What will this Jewel represent for the person who is going to wear it?"
Every one of my pieces will have significance in someone's life. It is my greatest joy to create a Jewel that my clients not only find beautiful but that my clients deeply connect to.
For example, engagement rings and wedding bands become an extension of the person, of the relationship. For this reason, getting to know you is vital to perfecting the design. I also question how each design will look in 5 years, 10 years even 50 years. It takes deliberate consideration to not only make a beautiful jewel but one that becomes increasingly more beautiful over time, a Jewel that truly is meant to last an eternity.
I also enjoy reviving sentimental jewellery or repurposing heirlooms. Old treasures should be enjoyed.
I design, I forge, file and finish each piece with the careful craftsmanship that I learned in over 30 years of my craft.
Once we agree on a design, all of my jewelry begins with the preparation of the alloy. This is where the Alchemy begins…