This week is all about intention, with designers who think beyond just looking good and who ask deeper questions, designers like Kate Pierre, designer of kate&frances.
We love the versatility of kate&frances, with pieces designed as a continuation of an idea (instead of a single, seasonal collection) and we have been big fans of Kate's blog, which allows further insight into the need for pieces that allow wearers to express themselves. We can't wait to mix and match from the 3 kate&frances collections at our Spring 2019 market.
What do you love about Spring? What is your must-have item for Spring 2019?
The kate&frances piece I love for Spring is the Emerson Pleat Dress. It's really an all-season piece. You can layer it over a long sleeve top, under a chunky sweater with textured tights, or wear it with trainers or heels. This piece allows the wearer options for how to wear it, which is the intention of all kate&frances pieces. You create your own style with great pieces as a base, you just add the flare!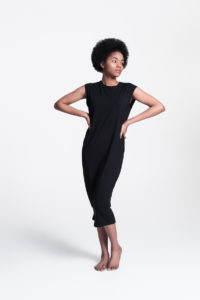 First Pick was mentioned as a choice for Sustainable Style by the Georgia Straight… What do you offer that is sustainable, green or ethical?
I'm going to mention the Emerson Pleat Dress again, because, not only is it one of my favourite pieces, but from a pattern perspective. Look closely and you will see that the dress is just one pice. This means that the waste is minimal when cut from fabric and what is leftover waste, has a new use, as pillow stuffing! This means less fabric going to the land fill or being recycled.
Sometimes it is the small things that you don't notice at first glance, where a lot of thought has gone into a design detail to simplify and has multiple benefits!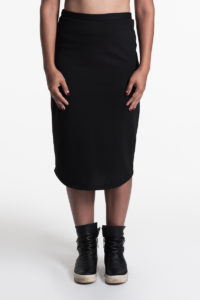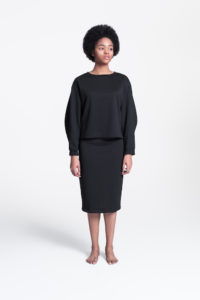 When did you start your line? How has it evolved since then?
kate&frances was officially launched August 2017. It's been a slow build, testing the market here in Vancouver to see what consumers required from an apparel brand. Originally we only offered the one fabrication, the merino blend, however there was feedback that another fabrication be offered at a lower price point. That's when we introduced the cotton/poly/elastane blend.


What is your design point of view?
Less is always more. At kate&frances, we spend a lot of time thinking about the function of a design and the end use. What do consumers need from our product? What is missing from their current wardrobe? What can we bring to the market that is new and exciting?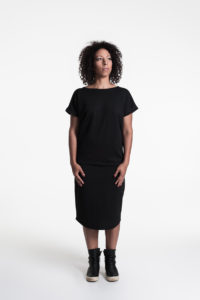 We look forward to seeing your line, Kate!