We've (almost) made it to the weekend, and this week has really had us thinking about intention… and how sometimes the intention need only be known by the person wearing the item, for it to be truly extra special. Take, for example, Joanna Lovett Sterling. Often Joanna's pieces serve to be mementos, reminders and promises. We love her lockets which offer a place to write down intentions and wear them close to the heart.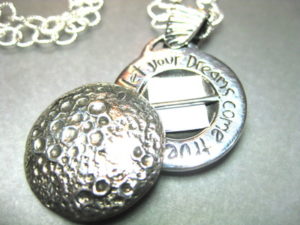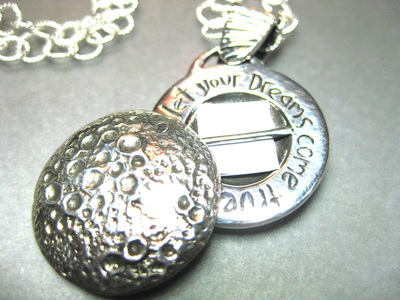 We are very excited to have Joanna join us again for our Spring Market, and love to hear the stories that have come out of her work, or the way that her creative process has been influenced by happenstance.
When did you start you line? How has your line evolved since then?
The spark of my line takes me all way back to my grad show from the Jewellery Art and Design Program here in Vancouver, getting close to 20 years ago!. I had a vision to create a line of watch bands inspired by nature, with references to the sky, prairie and water.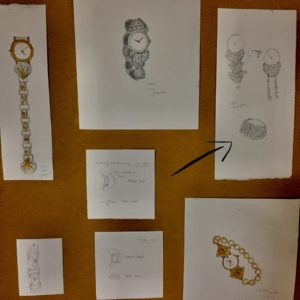 The bands were elaborate and beautiful but it wasn't the bands that took off. It was the ring that was the keeper! I made it as an add on to compliment the water watch band. The water band and the ring both had a soft pebbled texture, designed to look like pebbles on the beach as the water pulled back. Right after the show I started to wear that ring and found it fit like no other ring I had ever worn and it really worked with my hand. People who saw it had never seen a ring like it and wanted one too and the whole line took off from there. So many of my designs have sprung from that original ring – all keeping with the commitment to soft organic shapes that not only are a treat for the eye on their own but really compliment the body and are oh so comfortable to wear!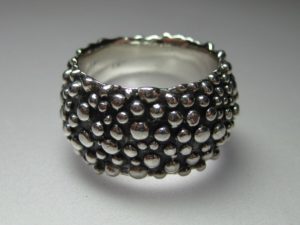 Somewhere along the way that design got changed to moon but really once people own it they tend to call it whatever it means to them
( which I love) and here it is as I make it today still from the same mold that I could never improve on. People tell me it's perfection is in it's imperfection.
I will be bringing it along in many sizes to First Pick, it is still a fan favourite after all these years!
What do you love about Spring/Spring Fashion?
Spring fashion to me is all about being out and about! For years I travelled to Italy in the Spring which has been the inspiration for so many of my pieces but for the past two years I have been really enjoying our springs here. This show is one of the reasons why, for two days we have the opportunity gather with such a variety of designers and makers to give our outlook a refresh, which reminds me how great it is to be living here in the beautiful West Coast!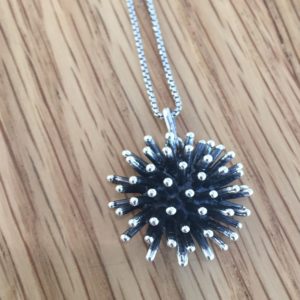 What's new for Spring 2019? What's your must have item? 
This Spring I am totally diving into a new design that started with my latest locket. The Give and Grow locket that takes the form on the growth rings of an oak tree. That locket was so well received that I have expanded the collection to include earrings, necklaces and even a ring!
The intention of the locket is that through mindful giving we really grow in our lives and as well as how important it is also at times receive and to take time for ourselves.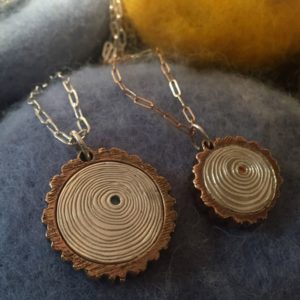 What does Sustainable Style mean to you?
Sustainable style is so important these days! To me sustainability means quality that lasts. I really think about that in the pieces that I make. I make pieces that are strong and are comfortable to wear.
I really think about how designs can work for the long term. I have many customers who wear pieces that they have chosen years ago that they add to, building their own, very personal collection.
I like customers to think about what they already have and how the piece they are considering can fit in with what they are working towards as their own personal style, with comfort and best fit being a top priority. My customers tell me that this consideration results in them building a collection that empowers them everyday.
I use quality materials in the pieces I make which includes recycled re-refined pure silver as much as possible alloyed with an anti-tarnish alloy. I love reusing customers old diamonds and precious stones to remake into designs that they will enjoy today. All my pieces are made locally using safe practices.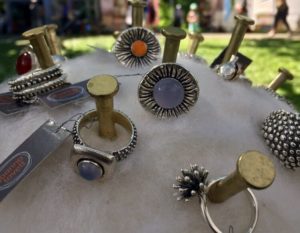 What are some other Must Sees at the show?
My must sees are to come and stand at my the giant spinning ball of rings and to have some fun trying them on! They are super comfortable – finished to a silky smoothness inside and there are so many options to help you find something that fits your hand and lifestyle just right.
Also take the time to look though all my lockets. The series started with the Earth Locket in 2007. There are now nine in the series – each one was made for a specific intention and opens in it's own unique way.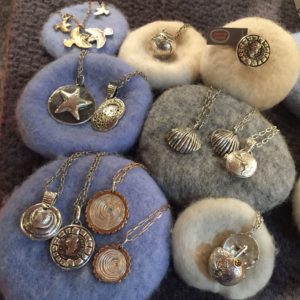 Summer always brings with it Weddings and Travel… 
I love to take on the occasional project for really special couples looking to mark their commitment to each other. In this image here you can see the wedding set that I made for a couple who were attracted to my design of the muse ring for her and journey ring for him. They first saw the designs in silver and then we reimagined them in yellow and white Gold and for her a glorious Canadian diamond!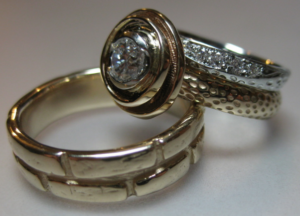 Many times a couple will chose a comfortable design in silver that they find in my current line that choose for their wedding bands, often I scribe a meaningful date or word inside that is just for them, making the piece simple on the outside but very special for them.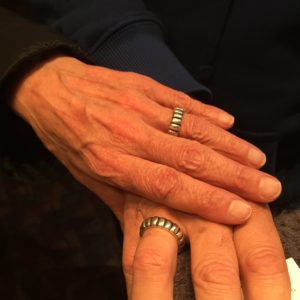 Here a couple ordered matching rings to mark 30 years of togetherness.
Another couple's love of the outdoors and nature inspired the three of us to come up with a design of simple bands with a rose gold chickadee for her and a yellow gold for him. The chickadee was a good symbol for them as that little bird forms long term pair bonds and builds a safe home together. This couple had to spend much of the early part of their marriage apart so it has been a comfort for them to look at their rings as a reminder of their bond to each other.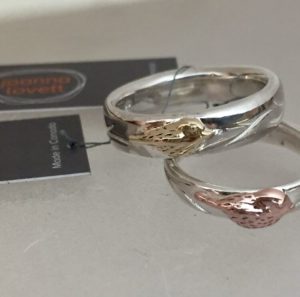 For travel often customers choose a very simple set of wedding bands to fill in for their original ones. This allows them to travel lightly while still wearing a thoughtfully chosen commitment band.
As for lockets- the Starfish Locket – which is all about being in the moment that you are right now is my most often chosen traveling necklace.
What marketplace trends do you like right now?
I think my favourite "trend" right now it to buy what is personally meaningful and that usually means that it is handmade and even better when you get a chance to meet the maker. I find when I meet someone and can see they are wearing something handmade or they have handmade treasures in their home that it is such a fun way to start getting to know each other.
Sometimes it feels like there's an expectation to be a "big business" when in fact we are one person shows… how do you manage/stay sane/get it all done?
I find am getting better at not being distracted with all the business options out there to make sure I can keep the commitments I have made to my customers my top priority.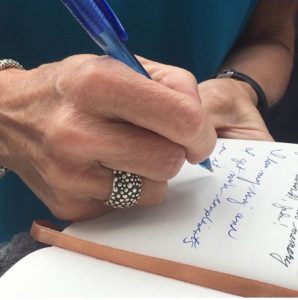 Anything else you'd like say!
Just to say I a really looking forward to being part of First Pick again and a huge thank you to all the people out there who love and support handmade!
Thanks for chatting Joanna! We can't wait to chat more about your work at our show! And for some lucky person, they'll be taking home something from Joanna Lovett Sterling as part of our $1300+ Designer Giveaway on Instagram… see yesterday's post for more details!