No horsing around here, it's all serious business because our Spring 2019 First Pick Handmade Market is TOMORROW!!! We can't wait to see everyone at the market, especially our designers. Seeing someone every 6 months really lets you see the evolution of their brand and we have been excited to watch Street and Saddle grow and expand to include Men's clothing as well as Women's.
We love designer Katelyn's collection, and the energy and effort behind the brand. We had a chance to chat some Fashion with her recently, check it out and come see us tomorrow, you'll be so glad you did!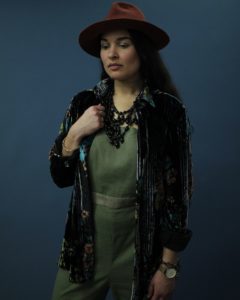 What do you love about Spring/Spring Fashion?
Our brand is much more "fall," with lots of tailoring and wools, so it's been fun to experiment with Spring styles – they're not what you'd expect! We've got cotton corduroy mini skirts with vintage buttons, a wonderful floral silk velvet, and (of course) a new horse print! I love the optimism of spring. 
What's new for Spring 2019? What's your must have item? 
Our Horse Power jacket in pink corduroy has been the absolute favourite since we launched it. It's so girly – with our trademark unicorn lining and ivory and gold zippers and pink ribbon trim, it's basically the clothing equivalent of a cupcake.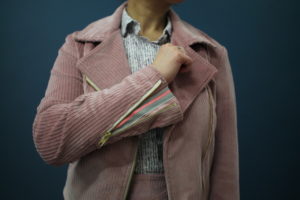 First Pick was mentioned as the Georgia Straight "best market for Sustainable Style" right after our Fall 2018 Show… What do you offer that is sustainable/green/ethical that customers won't want to miss for Spring?
We have a selection of styles that are made from fabrics that are either Oeko-Tex or Blue Sign certified. These certifications set strict standards throughout the manufacturing process of the raw materials – from farming practices to pollution and factory conditions. My personal favourite is our Cavalier Pants. The fabric is milled in Switzerland by BlueSign standards, and to be honest it's pure magic. It's so stretchy, but also so structured and comfortable. And durable! Since the fabric was developed specifically for horse riding pants, it has a super high abrasion resistance (ie: it will never pill or stretch out). Even though the fabric is (insanely) expensive, I wanted to make a legging that was price competitive with the big activewear brands. The result is a $185 pant-legging hybrid that ticks all the boxes: made in Vancouver, sustainable fabric, ethical manufacturing, durable, classic and… makes your butt look great.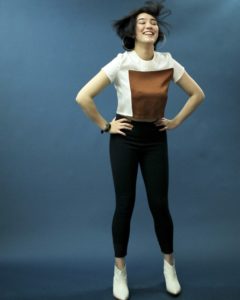 When did you start you line? How has your line evolved since then?
Street & Saddle started in 2015 by myself and my co-founder Tina, who makes our amazing belts. We're both "horse girls" and of course met at a barn, where we discovered we had a shared love of craftsmanship, traditional equestrian style, and fabrics. Today, we have a made-to-order "mini factory" in Strathcona. The brand itself is growing and developing a more and more unique point of view. Last year, we slowed down a bit and did a bunch of experimenting with new styles and fabrics – moto jackets in water-resistant wool, blazers in technical stretch twills – and this year we're rolling it all out!
What is your design point of view? Who is your customer?
It's a modern nod to equestrian heritage. Horses and the culture that surrounds them have been so ingrained into our society for thousands of years. Riding horses is interesting because it is very much athletic, but demands a tailored look in terms of clothing. People still wear tailcoats and polish their boots. So it takes inspiration from this very old-world place, and interprets it for today, whether you ride horses or not. It's British quirky mixed with high tech fabrics.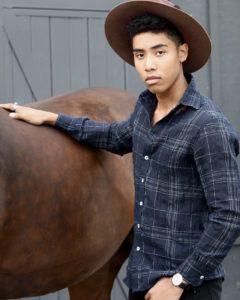 What items do you have for Weddings, travel wear and gifts?
For weddings, we have some really special men's shirts – with customizable ribbon trims.
We have a plaid linen that has a pre rumpled texture. It's so thin and airy, but you can stuff it in a suitcase, prefect for travel!
Our belts are always a hit for gifts – they are truly beautiful and look even better as they age.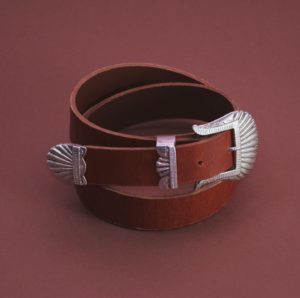 People often think Handmade is pricey… Comments?? 
As a young (read: broke) entrepreneur, I understand this plight. In order for ethical clothing to become mainstream, we as makers do need to try our best to make our products accessible, to provide at least a couple "entry level" pieces. I price my products according to how many seams they require, and the cost of the fabric. Our sleeveless Saddle Shirt has 11 seams, and our lined Horse Power jacket has around 100 seams. Those items are costed at $38 and $395, respectively. 
Even on our lowest cost items, we offer free customization – whether it's sleeve length or someone wanting an "in-between" size. It makes it a very personal and fun experience.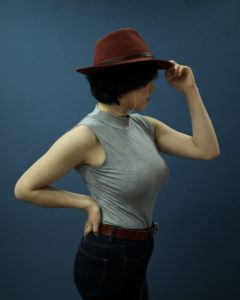 What marketplace trends do you like right now? What marketplace trends are you wishing to change?
I like that people are asking questions, and talking to brands. When I'm at a market, I don't even mind when people are critical of what my clothing is made of or how much it costs, as long as they're curious about what I have to say. It pushes me to be very transparent, and if I can arm consumers with facts and information about responsible consumerism, I go home a happy lady.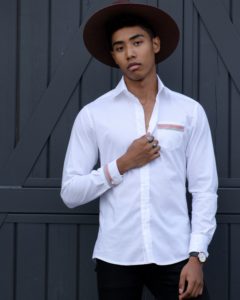 Sometimes it feels like there's an expectation to be a "big business" when in fact we are one person shows… how do you manage/stay sane/get it all done? 
It's amazing what can be accomplished with a lot of passion and a lot of coffee. I once heard a quote: "You don't want to fail because you didn't work hard enough." I see S&S as a big company, one day. I really, really want that. 
PS- Catch Katelyn from Street and Saddle's Interview with the CBC, we'll post a link here when we get it!!