We're a month away from our Fall Fashion Market, and there's something about this time of year that has us thinking about simplifying, layering and really getting down to the things that are really important, like Good Fabrics!  After a summer of bare shoulders and exposed backs, we don't want synthetics, we want natural fibres, and more than ever, we want Linen.
This week we're all about Linen and the like, so we're starting things off with Serenity West, the Premium Linen brand by Mother/Daughter duo Acacia Cresswell and Sandra McIntyre. We love the West Coast vibe their line exudes, from the colours on offer to the clean, modern lines, to create sustainable luxury. Grab yourself a pour over, and settle in as we chat sustainability and design… Check it out! This new to First Pick Handmade brand had lots to say, kinda like us…
Let's talk about Linen! As linen experts, what do you have to say about this material that is really having its moment?
Sometimes we feel that linen has a bad reputation among people who don't know about its wonderful qualities. Some people turn away as soon as you say linen because of its rep or the wrinkles. Luckily there seems to be a bit of a trend right now about owning a piece of linen (#embracethewrinkle), but until recently, it was not very well received, amongst all ages. Education seems to be the way forward with our main fabric. We are doing our part about getting the word out about where it comes from, how it's made, how it wears, what it feels like and how amazing it becomes over time. We Love Linen!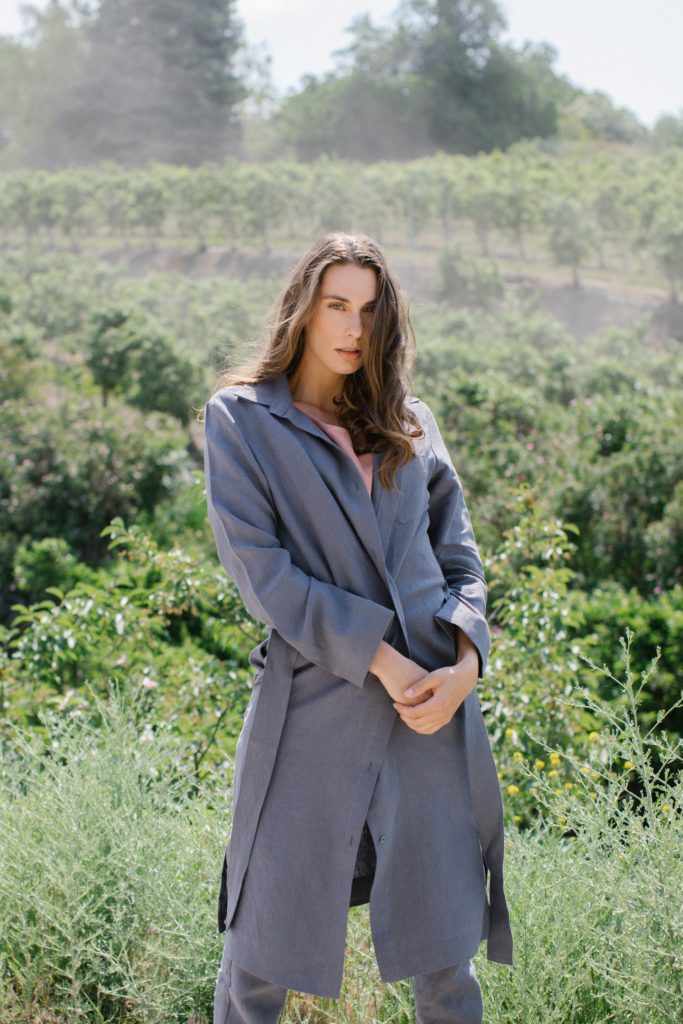 Sustainability is huge right now, but what do you think needs to happen to take it from "trend" status to how the everyday person is living?
People have to start walking the walk – actually begin to do what they talk about. Actions, in my mind, speak louder than words. As we've seen through clever advertising and social media, a company can appear as environmental as they like. But how does one really know what they're actually doing for the environment? Unless you see them DOING and continue to DO and ACT then we can possibly begin to believe they are sustainable.
  Greenwashing: What comments would you like to make on the subject? What have you noticed that bothers you? We see a lot of "Designed in Canada" but made elsewhere… What should consumers be aware of when comparing products and making purchases? 
 It's a ruse isn't it? Because a company is Canadian owned and products are designed in Canada does not make it environmental or sustainable. The reason they design in Canada and make their product elsewhere is because it's cheaper to produce elsewhere. There's no other reason for it. And Canadians are used to buying cheap products from fast fashion outlets to large chain grocery stores, and large box stores in general. That is how we, our parents (in part) and our children have been brought up. It's difficult to change that mindset, but we are hopeful!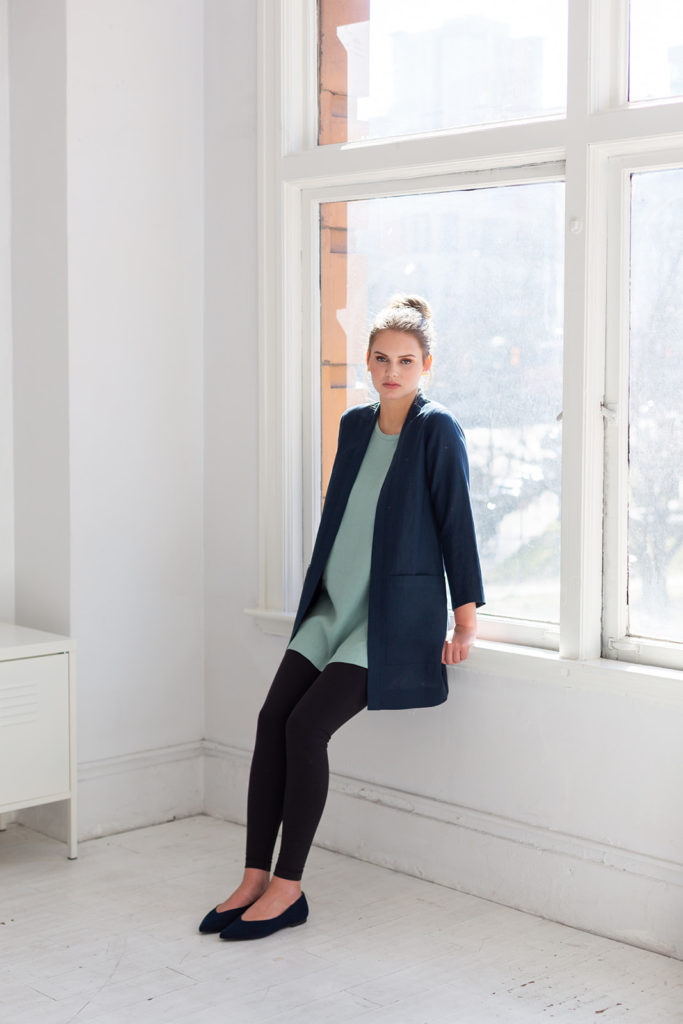 On the topic of Activism, it seems that local designers are leading the charge through creating their own initiatives regarding waste, take back programs… Even spreading the word about social issues on Social Media to create a more inclusive community. What are you doing to spark change?
On a daily basis we are active in trying to find ways to reach more people and talk with them about locally made products. We constantly talk about how healthy it is for our economy to support local companies with their locally made goods; whether it's food, hats, clothing or home décor products.
 Serenity West aims to reduce consumption and combat fast fashion and our throw-away lifestyle. We design and create pieces that you want in your wardrobe or in your home for the rest of your life (and more)! We produce our products locally, in small batches to reduce our footprint.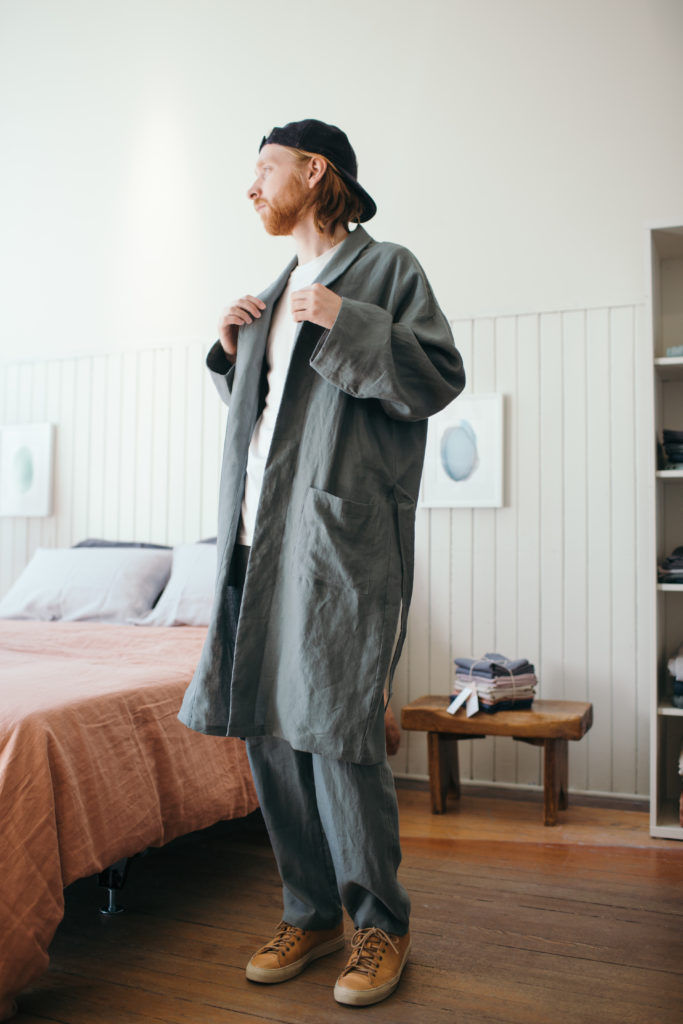 Even with the rise in Sustainability, customers still want "luxury"… how does your line connect the two concepts? 
 One of our goals (we even created a hashtag for it) is luxurious comfort. The idea behind Serenity West is to use high quality, natural materials that are made to last. We carefully select each material for its durability as well as luxurious feel. We want to bring serenity into any lifestyle, with soft, durable linen, and things like nut or shell buttons that can all go right back to the Earth.
Let's talk production: What is your favourite part of production, and why?And the least favourite? 
There is so much that is very satisfying about designing and producing clothing. Besides the actual design phase, our favourite part of production is the close collaboration with the people who help us make our products. We are very lucky to have found the very talented people who contribute their skills toward our designs. I'm not sure what our least favourite part is. The business side of production, namely bookkeeping, comes to mind.  
What do you wish customers understood about the production process? 
 It takes months to come up with a few designs, made in the proper fabrics and colours and sizes; the sourcing, the pattern making, the sample making, the trial of the individual pieces, how they wash etc… There's so much that goes into each design. That's what we would like people to know. Each design has a story, a purpose. We would like for people to know the story behind each one, as it makes it more meaningful for everyone.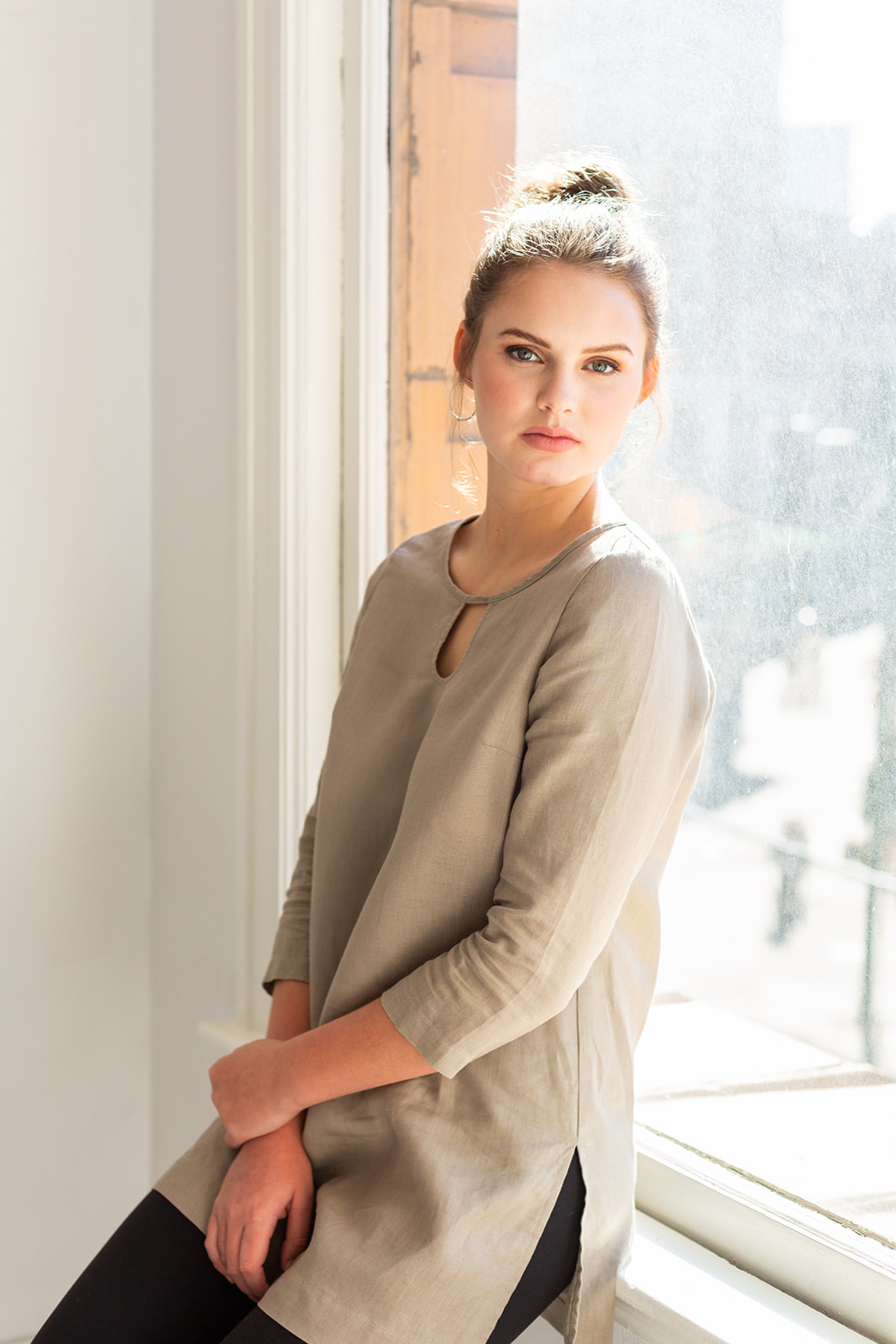 People often think fashion is all glamorous… what's your "average" day like? 
 Okay we confess, we do start each day with a bit of "glam" in that we take time with a gorgeous cup of locally made coffee at one of our neighbourhood cafes – almost every day. Then, seriously, we discuss what needs to be done; we plan our day, our week, our months ahead. We always want to make sure we are on the same page and keep each other's ideas and goals in mind. Then we head out to check off all the items on our lists; whether it's to the office to sit at the computer for a few hours, or sourcing notions or materials online or locally, emailing, picking up samples, arranging pop-up shops, talking to photographers and models for photo shoots or sitting down to do some bookkeeping. The tasks we perform daily vary quite a lot depending on what is in the schedule for the upcoming months. All the while we need to keep designing and keep production going for upcoming seasons. There's a lot to do, and always a lot on our minds.
Sandra generally works on designing, researching fabrics and notions, coming up with new designs and concepts.
Acacia tends to the website, processes online orders, develops content for social media and PR with local photographers, models. hair and makeup artists or contacting possible new collaborators.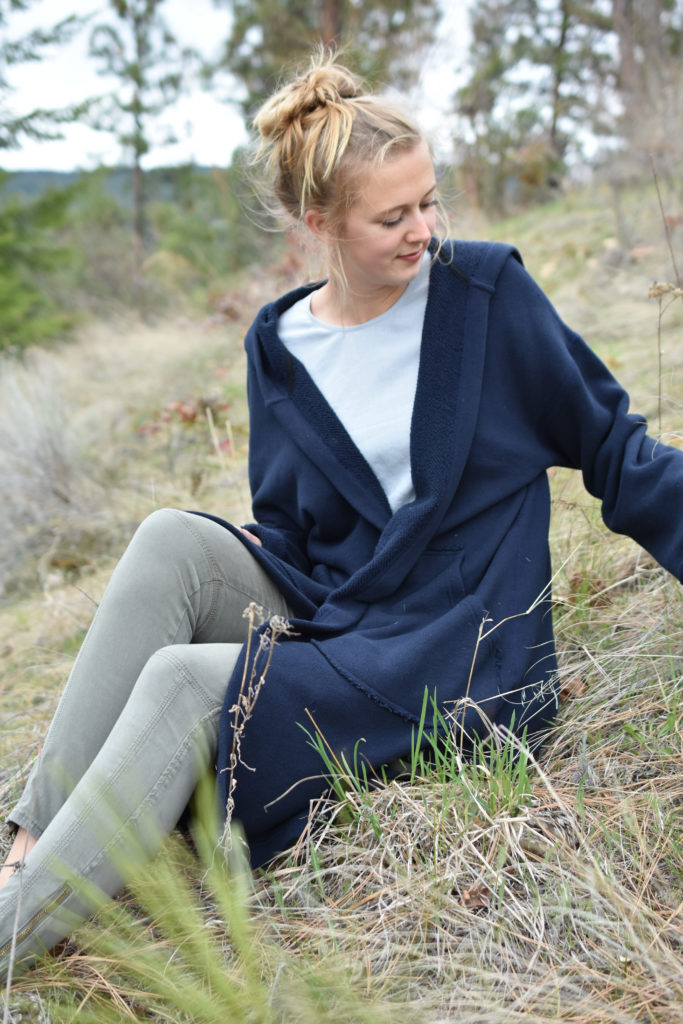 What's new for Fall 2019? Why are you excited about this season?
For fall/winter 2019, we've added new natural fabrics to our line; eco fleece, brushed cotton and wool. We have some cozy loungewear and jackets we're very excited to show you. We have had some of these pieces in the works for over a year now and have now got our fabrics and colours in order. Whew!
What's the one thing customers should add to their wardrobe this season and why?
The Ponderosa Trench/Dress is a new favourite! An instant classic. Our design started as a linen trench, but we wanted to get more use from it, by adding buttons and a belt. It is a great layering piece that transforms into a fabulous dress. For those trying to scale down their closet, this is a must. It will transition from season to season and works with a variety of outfits. This is a piece that is truly Serenity West.
It is available in three shades: dark gray, mustard and navy.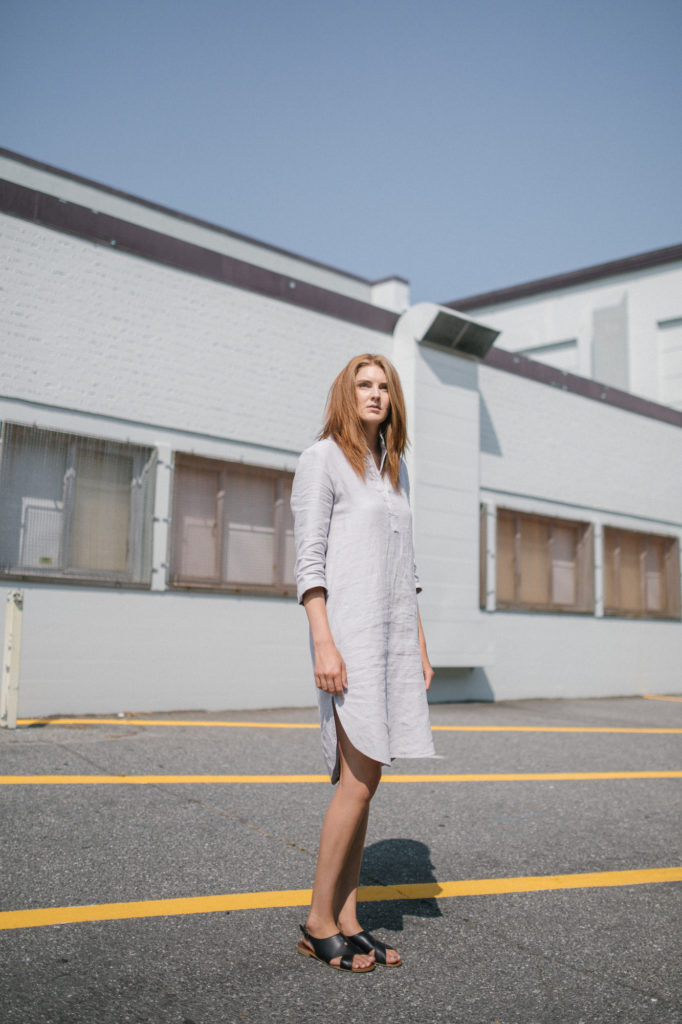 Let's talk design for a moment: what is your design viewpoint? Who is the person you design for? How has your design viewpoint changed or evolved?
Because we are a mother daughter duo, we design for these age groups mainly, and for those women who love linen. We see a gap in the market here. Fashion around the Lower Mainland is either very casual/sporty or quite formal or dressy. We are in another genre that aims to work in an office environment and at a more casually-dressy environment. We provide pieces to wear out for dinner, to a BBQ with friends, to wear out shopping, or to work and still be comfortable and modern.
How are you balancing creativity with the daily grind?
We have to schedule it in. Like everything, if we don't make the time, it doesn't happen. This is one struggle we do have, the logistics of running a business takes much more time than we would like. Ideally, we would like to take more time to let the creative thoughts flow so we can create. 
What challenges do you find yourself facing, and how does being part of the local design scene help? 
One challenge we find ourselves in constantly, is the time challenge; to impose tight schedules on ourselves that make daily life stressful. We try not to make decisions or act hastily, so we really focus on creating schedules that work, making sure we leave enough time to maintain our goals without straying from our ethos. We really want to take time to enjoy the process too. By reminding ourselves about being local, slowing down – taking time – that has been a real game changer.
Plan to check out Serenity West at our Fall 2019 Fashion Market, September 14+15 2019 at Heritage Hall, and then come see them again October 19+20 2019 for our Inaugural First Pick Handmade Home Decor Market, when the ladies will have their beautiful bedding and decor linen on offer.