When we get dressed in the morning, we generally don't consider the fashion designer's intention, as this is not part of the conversation when it comes to most garments. Garments are made to function, but in most cases, that's where it comes to a halt. A tag may provide care information, but rarely does it give insight to the designer's intent. It may provide fabric content, but not the process, which in the case of smaller run, slow fashion, is just as integral as the ultimate result. The journey is as important as the final destination.
On our final instalment of our Statement Fashion spotlight, we look to the Artist Statement as a source of insight to Wendy Van Riesen's line of sculpture as clothing, better known as Dahlia Drive.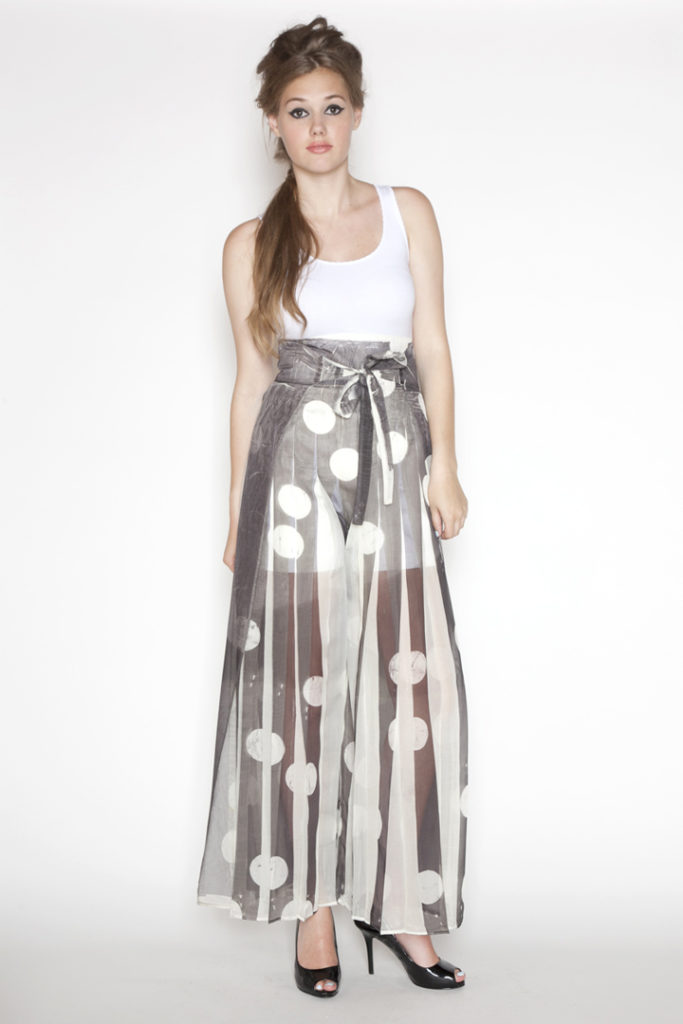 "Influenced by a theatre background, I tell stories on recycled textiles.  I start with pre used textiles which have their own history: curtain sheers that were once a threshold between the inner and outer world, stains from cut fingers or shared meals , broken threads from loving wear, a slip's torn lace from years of leg crossing.  I shape these materials into canvases for the female form. This landscape inspires me to layer, infuse and embellish a new story onto their map; not to eradicate the previous history, but to stand on its shoulders as part of its evolution.
The female body ultimately realizes the garment, giving it form and breath; a living body of art."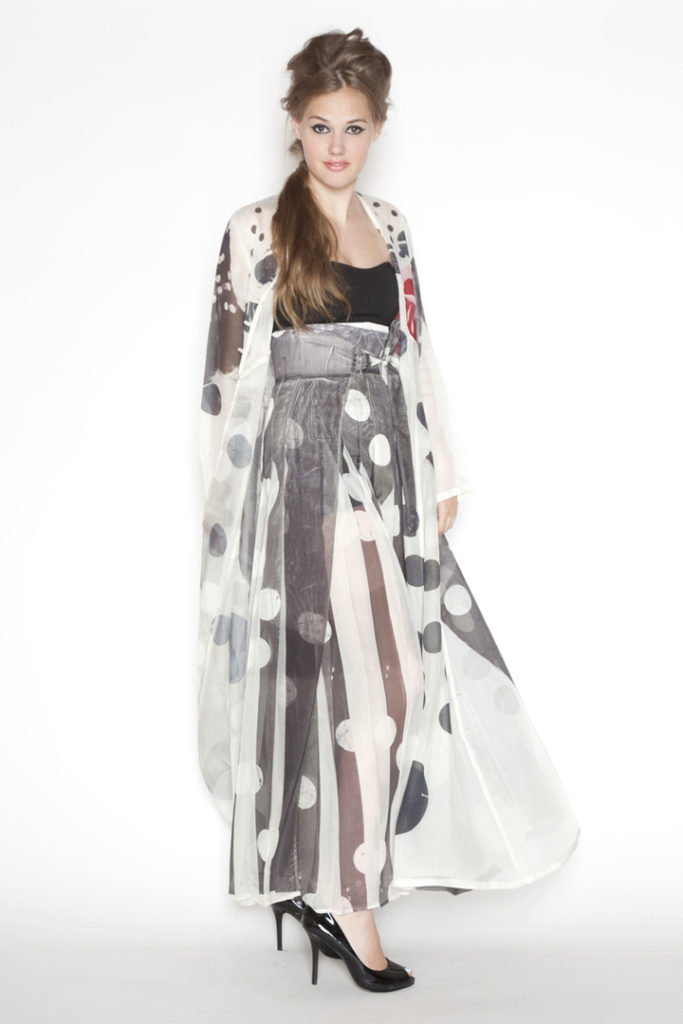 As far as her process goes, Wendy reveals her vision:
"Most fashion pieces are created from pre-patterned 2 dimensional yardages cut and sewn to the finished sculptured form.  I start with the sculpture. The garment becomes a continuous landscape for its own story, the wearer's story and mine. The canvas of a recycled slip, for example, has its own history."
"Curtain sheers, once diaphanous boundaries between our homes' inner and outer worlds, are now transparent boundaries between the body's sculptural form and the external world. These landscapes inspire me to layer, infuse and embellish a new story onto their map; not to eradicate the previous history, but to stand on its shoulders as part of its evolution. Ultimately, a woman becomes the foundational layer to the living canvas."
"Each found piece is considered on its own merit: type of fabric, pre-existing stains or tears, how it responds to dye.  Depending on these qualities, the piece may be buried in the garden with rusty things to over-stain previous stains or patched with pieces of fabric to strengthen a tear.  Then each piece is either dyed, hand painted and/or screen printed with images of bones, plants, animals, grid textures and/or lace patterns to add another layer of history to the garment."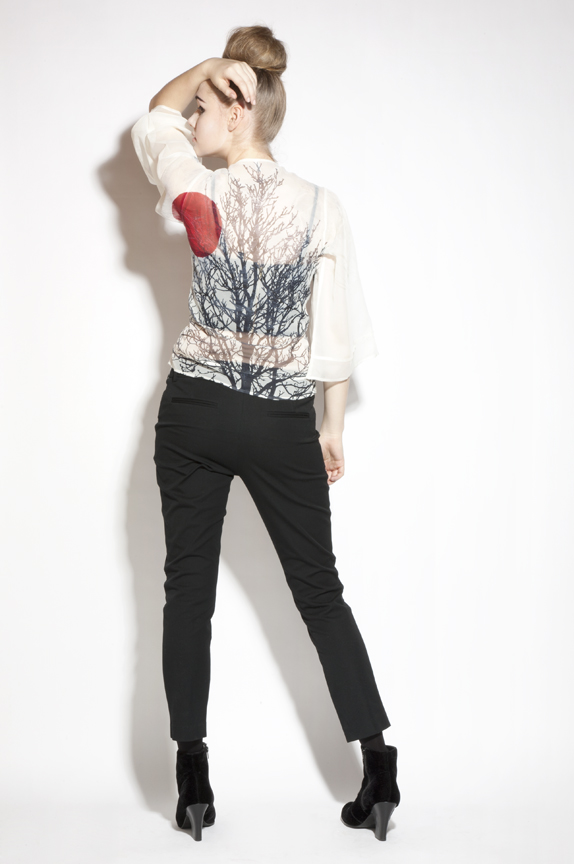 New to its repertoire, Dahlia Drive collaborated with Haida Master Artist Reg Davidson to create a new story telling medium of Haida art called " Ravens, Eagles, Polka Dots". 
The Reg Davidson/Dahlia Drive clothing line is based on the two main clans of Haida lineage: the Raven and the Eagle. Although Davidson has depicted these two moieties in many art forms, they picked the "Raven Dancing" silkscreen and "Eagle Drum" painting. The palette of the line is inspired by the Haida Gwaii landscape and traditional colours used by Haida artists on their carvings: red cedar, red ochre, ash black, and sea foam green.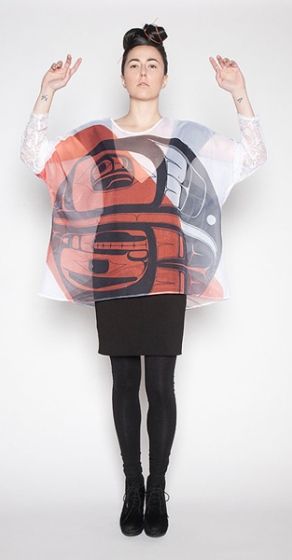 "I spent 2014-2015 in Masset, B.C., learning about the Haida culture, which inspired my line of clothing Ravens, Eagles and Polka Dots with Haida master artist Reg Davidson."
"We ended up becoming friends, and then out of the friendship we were able to collaborate artwork that we do," she explains. "It came out of eating together and fishing together and being together, and that's just a lovely way to be able to create something."
"What I really have to honour about him is his willingness … to let somebody that's not indigenous play a little bit with the work," she says. "I'm just very thankful to be able to be included in a wonderful culture and contribute in a small way."
This collaboration was exhibited in 2017 at the inaugural Indigenous Fashion Week in Vancouver.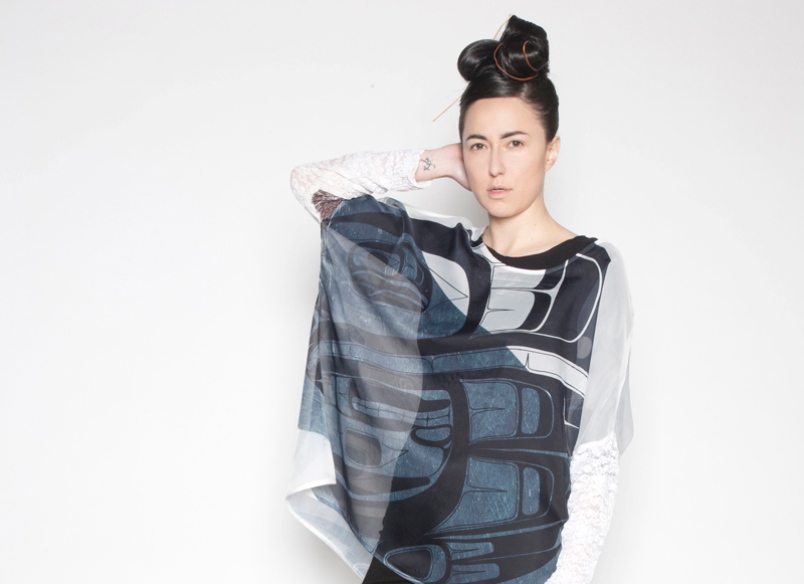 Dahlia Drive is created with attention to Wendy's Statement of Values which includes:
Respect for the environment: The most important value is to conserve waste by transforming what we already have before creating more.
Art is affordable: The second-place value is to make art and art design on clothing available to consumers at a reasonable cost.
All bodies are beautiful; clothing available in all sizes.   
Integrity: The fourth-place value indicates Dahlia Drive's aspiration to create quality fashion that is based on conservation ethics and principles.
 Vision: The fifth-place value is to print images and textures which reflect the beauty of the human body while implying its intimate connection to the world around it.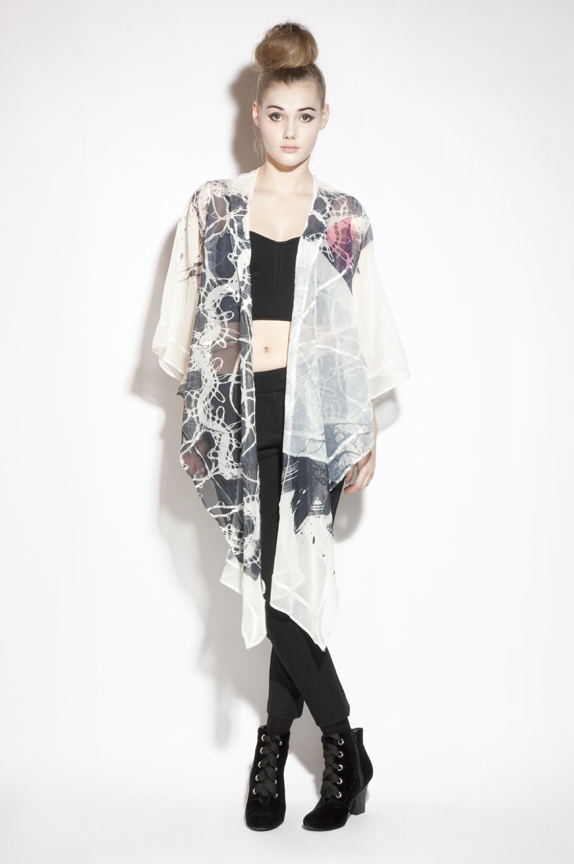 Wendy is a graduate of the Textiles Program from Capilano University and is in pursuit of a Fine Arts Degree from Emily Carr University when not making, exhibiting and selling her collection both across Canada and from her North Vancouver Studio. Find Dahlia Drive at First Pick Handmade this Spring.