It's the start of a brand new week of profiles, and this week we are talking Surface Design as we profile designers who dye, felt, print and create texture, colour and magic with their work.
Handmade in itself is a real revolution, a disruption to the standard, store bought model that sees a whole lot of the same without a lot of soul. Adding the element of Surface Design to Handmade means you can clearly see the hand of the artist: the marks made, the patterns created… taking things to another level.
This week our designers who not only create a garment, they create the very material for their collection, or the signature patterns that make their line unique.
For a great example of fusing both fabric creation and signature patterns all in one article, we are looking today at Frances Dickinson's collection, knowns as Frances Felt. Frances is a long time fibre artist, and we are very excited to have her return to First Pick with her Fall 2018 Collection. We chatted Fall, Felt and Fashion, check it out below: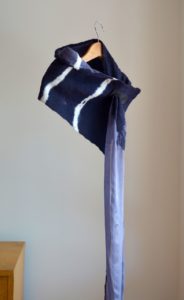 What's new for Fall 2018? 
I have been playing with indigo a lot this spring. I am hoping to have some indigo dyed pieces for First-pick. Felt scarves and shawls as well as some clothing…we will see! 
What excites you about Fall fashion? 
Well because I work in wool, I get very excited about Fall fashion. People love the idea of wrapping themselves in cosy fabrics and sometimes it's hard to be warm and stylish at the same time! The felt shawls and scarves are such an effective accessory because you can keep your whole outfit classy and simple and then wrap yourself in warm dramatic flare .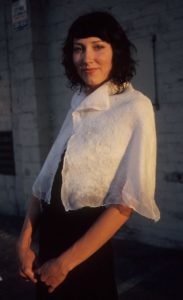 What do you think people should keep in mind when looking at Handmade, vs Factory Made goods? What makes Handmade so unique?
How the maker starts with an idea and finishes with a final product. It's so rare that anything is seeing thru by one persons vision. Every step of the way is paid close attention to by the maker, ensuring craftsmanship and uniqueness.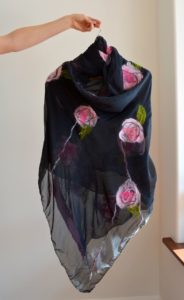 Being an entrepreneur isn't easy. What motivates you to keep going?
Lifestyle. I like independent living and I love being apart of the creative community. Truth lives there.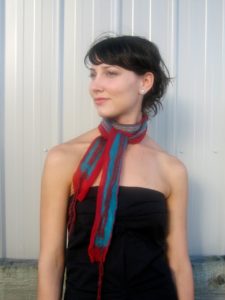 What's the best thing about being part of the Handmade movement?
The evolution is fascinating! It's such a tough career path but the drive to create is so strong in people. It's growing and people are becoming more aware of how industry is affecting our lives. They want that human and community connection in their life, be it through food, design, clothing, art.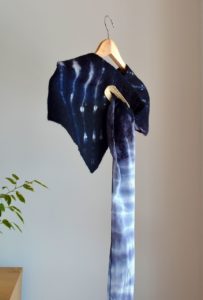 Be sure to join us at First Pick this Fall to see Frances' One of A Kind pieces, we're only a month to go until the show!