Happy Friday Friends! We're at the end of Surface Design Week, and we're closing with one of our show favourites, Daub + Design, and sister company Daub | Active! We love the combination of hand-dyed (in the case of Daub + Design), and modern technology, with Daub | Active's photo prints of Creative Director Lexi Soukoreff's signature hand-dyed material.
When we started dreaming of our event, we knew we wanted Lexi to be involved, because her lines are exactly the embodiment of what we want to show the public *is possible* and *is happening* here in Vancouver… that Canadian, Handmade Fashion is relevant, functional and inspiring, something for modern women with active lifestyles, be it running marathons or chasing after the kids.
We love that Daub + Design always encourages loving ourselves where we are *right now* and sees active living as a way to nourish the soul, not just fit into a dress… we know this helps make Daub + Design a fan favourite, which in a town known for yoga gear, speaks volumes.
We got to chat with Lexi about her companies, and as always there was lots to talk about. Check it out!

What's new for Fall 2018? 
The Savannah Bra and a new colour way called Marine. We'll have tunics and hoodies LATER this fall. We also address a few fit issues and reissued the Signature Legging in the Active collection.
What excites you about Fall fashion? 
Layers. Dressing up. Wearing jeans again (even though I make leggings!) It's a nice change. Jackets. Athleisure to the max. 
-What inspires your work? What inspired your Fall collection?
I wanted more layering pieces. We're lucky we live in such a temperate city and can get away with throwing a light weight jacket over top. Our new pieces are all designed to go together so you can wear head to toe Daub from bra to leggings to sweater. They work for the cooler months for our friends to the east with our brand-new bamboo fleece hitting our booth later this fall.

What "fashion rules" do you think are outdated? What "fashion rules" (if any) would you like to see introduced? What trends do you wish would finally die??
Well, I just found out scrunchies were back so when my head stops spinning over that one… joking. You'll see some scrunchies this fall from us too 😉 And some sweatsuits.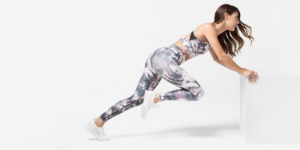 People often think Handmade or Canadian Made is expensive, because we've been trained by big companies to think cheaper is better. What would you like to say on this matter…
Our pricing is not just arbitrary numbers that we just come up with. Literally, everything, affects our pricing. We're not trying to make things expensive.
Many of the artisan's prices are comparable to big well-known-brands who are all made overseas and get discounts because they are making thousands of pieces at a time, who have the high margins offer warranties, replacement on lost packages etc. As a small business, we have to be extremely careful and aware of all of these factors.
We make things in small batches and pay fair wages. We work with a sustainable business model that allows us to price things as you see them. 
My prices are as fair as I can make them and still make a living wage. Based on traditional mark-ups and expenses in Vancouver, my pricing should actually be higher. However, the market doesn't really allow that.  Rent (commercial + residential), minimum wage increasing, gas prices rising, the Canadian dollar dropping (we pay USD for everything, then charge back out in CAD) etc. All of these factors (and more) are why things made in Canada are "expensive", but if something lasts longer, because it's made with better materials, the cost-per-wear can actually be cheaper, which people often don't think about when they look at a price tag.

How is your collection eco-friendly/ slow fashion/ thoughtful/ sustainable? Why do you choose to work in this way, given the extra effort involved with eco/green production? 
We produce what we need. As a small business, I can't afford to sit on product and I don't want to discount unless there's a flaw. There's no need to produce a ton of excess and then put it on sale or throw it out. Make what you need and sell what you make. Our products last so people don't need to replace them. There's a huge amount of pride that comes along with that as well as knowing your customers still love the piece they got from you. They come back because they want to enjoy another piece in their collection, not because they HAVE to replace it. These conversations are had every time I interact with my clients and it's important. We can't always shop like this based on affordability and availability but there's a massive appreciation for it from my clients.