We're already at Friday and we're wrapping up our Chic Simplicity week with Couture Therapy, because we all need some fashion therapy after a week filled with smoke from fires…. there's nothing like air pollution warnings in our generally green and clean city to drive home the point that we need to collectively do better by the environment, and our fashion choices are a good place to start.
Many people would think "Eco-fashion" has to come from Mountain Equipment Co-Op or needs to be embellished with hippie-type images to qualify, so for those yet to be converted from their fast fashion ways because of style concerns… Kick off those stilettos, get comfortable on the couch, relax and let Couture Therapy come rescue you from your wasteful ways with thoughtfully made clothing in natural fibres.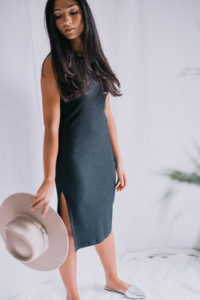 We love Sarah Couture's line, which features easy to wear pieces in neutrals that we can wear across the seasons. Keeping embellishments to a minimum, Sarah's line can easily dress up or down, making it perfect for the 'Workday to Weekend' quick change act as we rush out the door at 5 on Fridays.
We got to chat with Sarah at her Couture Therapy Pop Up this summer in Gastown, and we are very excited to have her line back at First Pick in September… prepare to welcome both style and sustainability into your closet in a few short weeks!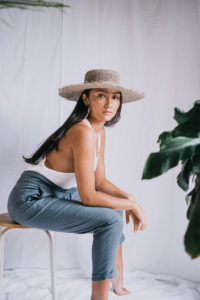 I love fall fashion, you get to be creative in layering cozier elements over your favourite summer pieces. You can start to add falls colour scheme to your wardrobe. And My favourite accessory for fall: Boots! I feel ultra feminine and powerful when I wear my knee high boots, which I can style with almost anything!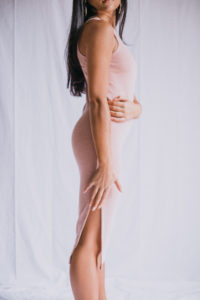 What's new for fall….
New for My Fall – Winter 2018/2019 collection is sweater dresses! I have also designed some new cardigans that will help you transition into the winter months.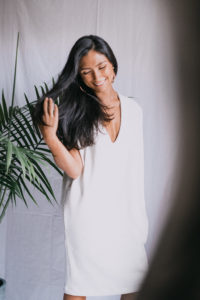 On being an entrepreneur…
Being an entrepreneur is really hard, but what keeps me going is my desire to create and when I get to meet other like minded entrepreneurs like myself who push me to achieve my goals and follow my dreams.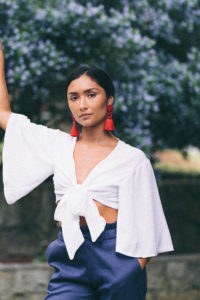 I also love meeting my ideal customers, who love my work, my designs and are excited for what my next collection is.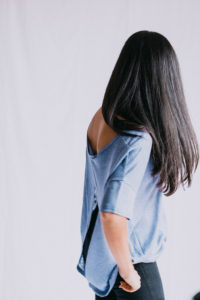 Also my two daughters motivate me to keep going, by them watching me follow my dreams and do the work I love to do, I hope it teaches them to do the same and follow their dreams and do jobs that they will also love.