Hey everyone, it's Friday, the day after Valentine's Day, and we all have a bit of a Love Hangover… but that's ok, we'll totally eat another chocolate thank-you-very-much! And the beautiful bouquets? Keep 'em coming, especially if you know Jessica Redditt, because she's made flowers (and plants) an important part of her collection!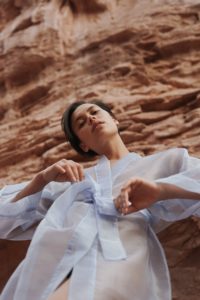 We first met Jessica at last Spring's Market, and fell in love with her beautifully edited Capsule Collection. Made of Eco-friendly fabrics and dyed with plants, Jessica takes a love of Nature to another (greener) level.  Vintage and reclaimed textiles ensure pieces are limited run, and simple cuts let the fabric (and colours) to take centre stage…. Who better to close our Neutral, Natural and Minimalism spotlight than Jessica Redditt Design's collection?
We chatted with Jessica about what's new for this show, so grab another bon bon and enjoy!
What do you love about Spring/Spring Fashion?
I love the light layers and ease of dressing. bearing arms and legs!
What's new for Spring 2019? What's your must have item? 
New for this spring is the our full capsule collection available in silk noile. Our signature palazzos, kimonos, tees, daisy dress, etc.  All available in natural and naturally dyed palette.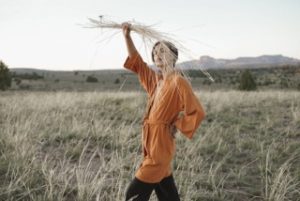 First Pick was mentioned as the Georgia Straight "best market for Sustainable Style" right after our Fall 2018 Show… What do you offer that is sustainable/green/ethical that customers won't want to miss for Spring? 
All of our collection is made with natural or reclaimed textiles and hand dyed with natural colours, made in Vancouver.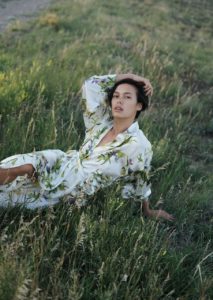 When did you start you line? How has your line evolved since then?
I launched my first capsule collection this summer. With each season, new colours, textiles and designs are added.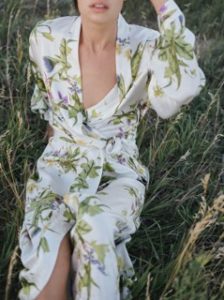 What is your design point of view? Who is your customer?
I'm creating comfortable,  classic wardrobe staples. My customer loves colourful statement pieces that are good quality and locally made.
We love that there's so much flexibility to your line, you could wear it anywhere. What do you have for frequent travellers?
My 6 piece Capsule Wardobe is perfect for travelling, as well as my Kimonos. The Kimonos also make a great birthday, Bridal or Mothers Day Gift. Maybe some for the gentleman too!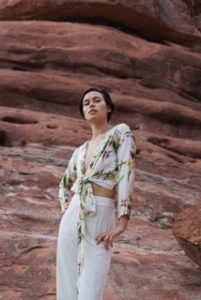 Sometimes it feels like there's an expectation to be a "big business" when in fact we are one person shows… how do you manage/stay sane/get it all done?
Working out helps. Physical activity to keep motivated. Monthly plans, dream boards, goals. Eating well and taking breaks also help me stay sane and keep the bigger picture in check.
Ok, we'll be joining you after this box of chocolates runs out… and at First Pick Handmade for Spring! TGIF Everybody!!