It's the final stretch! Our show is *this weekend* and we've saved some of our favourite Eco Fashion lines for the very end, kinda like dessert!
One of the best things about buying local (and getting to know the designers) is the fact that we all support one another and really help bring everyone up… it's a real team game around here. One of the reasons we love Kaitlin Martin and her (Ag) + (Au) Clothing brand is that she takes the time to educate us (one and all) on various aspects of fashion, including things that people don't want to talk about, including social responsibility and human trafficking.
We love reading Kaitlin's blog and Instagram posts, so it was nice to chat some fashion with her, check it out and plan to come visit us all this weekend!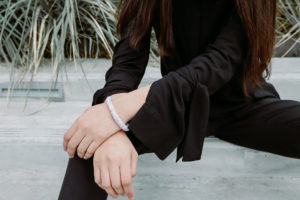 What's new for Spring 2019? What's your must have item?    
For Spring 2019 I'm introducing COLOUR into my collection for the first time!  By popular demand, I will offer select pieces from my capsule in something OTHER than black!!!    
First Pick was mentioned as the Georgia Straight "best market for Sustainable Style" right after our Fall 2018 Show… What do you offer that is sustainable/green/ethical that customers won't want to miss for Spring?
All of (Ag)+(Au) products are sustainably designed and ethically made!  Our products are made in Canada using only natural, plant-based, organic fabrics that won't feel icky on your skin and won't be hanging around a landfill for years to come! Each garment is designed to be able to transition seamlessly into your wardrobe, no matter what season, and they are all designed with classic shapes in mind so that they will never go out of style!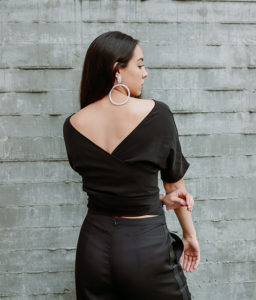 What marketplace trends do you like right now? What marketplace trends are you wishing to change?
I'm loving this thing I've seen trending on Instagram – style bloggers are taking photos of garments they love captioned with "don't need it, didn't buy it" and putting 10% of what the purchase would have cost into a savings account.  I think it's a cool spin on the "Buy less, Buy Better" movement, and it lets us all relate – yes, of course we ALL always want the "newest" pieces, but do we need them? Can we live without them? Will your closet come crashing down if you don't purchase?  Plus it illustrates really clearly how easy it can be to save up for something of high quality or something you REALLY love if you just stop spending on the "gotta haves" of the season.  
 I also think that this whole "Marie Kondo" kick everyone is on is GREAT.  I know it's cliche, but she's somehow gotten through to the average person what sustainable and slow-fashion designers have been saying for YEARS: you don't need all that crap. Buy what you love, buy things that last, and you won't feel bogged down with all the STUFF (unworn clothing included).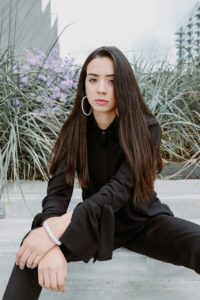 Sometimes it feels like there's an expectation to be a "big business" when in fact we are one person shows… how do you manage/stay sane/get it all done? 
Craft beer. hah just kidding. :/   I ask for a LOT of help.  I mean, I do all the work myself of course, but when it comes to making tough decisions – the stuff that really requires a lot of brain power – I lean on a lot of different people (many fine people I've met through First Pick, actually!)  I talk things through ceaselessly with my partner, my mom, any friends that might have a particular skill or are nice enough to listen and best of all, I've started to amass a large group of makers around myself and regularly reach out to them for advice or a wine n' bitch (it's like a stitch n' bitch but without the crafts and with wine…) where we can be 100% real with the struggles, the financial stressors, the makers-block – all of it. This past year I've been really focusing on and pushing myself to reach out to new people that I'm interested in working with or just getting to know, especially in my own community – It was nerve wracking at first but I have formed some amazing relationships that I wouldn't have otherwise and brought some amazing people into my little orbit!